Crypto investors are bracing for impact as crypto analysts warn that the current market pressure may be far from over, with bitcoin and other major digital assets facing lower price targets.
Crypto analyst and Youtuber, Crypto World, describes his visions and expectations for the price of bitcoin in the upcoming days. In the past three weeks, bitcoin has been on a bearish run from $25,000 down to $20,000 marking an 8.5% decline in the past 24 hours.
Bitcoin falls with broader risk appetite
Crypto World notes that on a 3-day trend, the price of bitcoin has flipped past its bearish signal of $20,000 and proceeds to believe that even more tougher times are ahead. With the western world spiraling towards a recession, bitcoin is also projected to have many rainy months in the red before it recovers.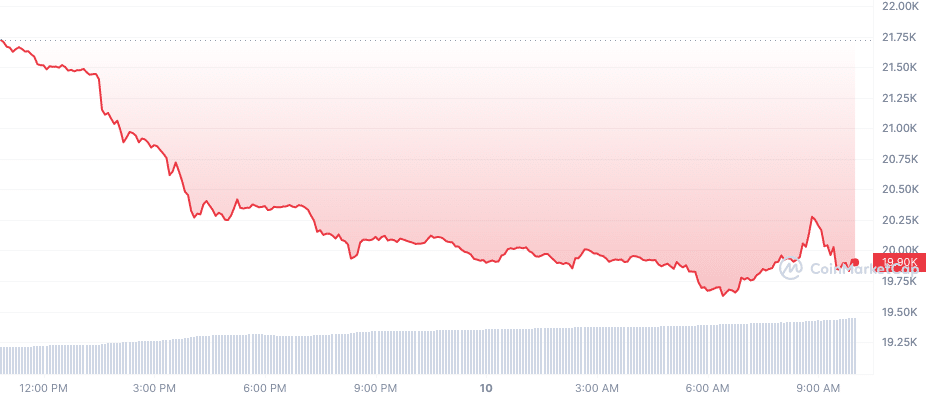 With the crackdown of the SEC as well as the Silvergate collapse, investors are losing interest and are becoming less hopeful about the breakout of bitcoin this year. The Fed and chairman Powell's statements on the current eclipse of the economy do not help feed into the optimistic view of investors and venture capitalists in the cryptocurrency industry.
Crypto World said that a near term target at $19-$20,000 is expected in order for the market to balance out before dipping lower after that. He also stated that if the price falls below $18.800 in the next few days that there will not be any support and will quickly decline to $17,000.
On a good note, bitcoin would have to drop below $17,000 in the next couple of days in order for the weekly chart to go from green to red. With the western economy losing its foothold, bitcoin and other digital assets will continue to decline as the market shifts from green to red.