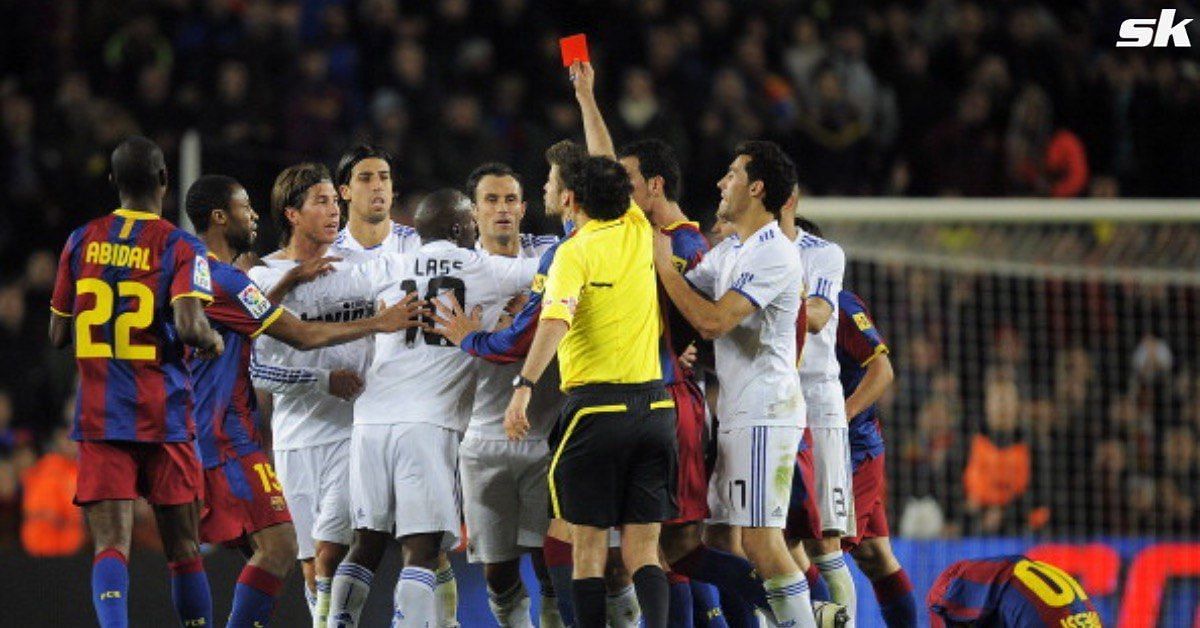 Real Madrid have released a four-minute-long video, highlighting the mistakes former Spanish referee Iturralde Gonzalez made against them over his 17 years stint in La Liga. Los Blancos released the video via their in-house media outlet RMTV after Gonzalez called them out on national television.
Last weekend, former La Liga referee Gonzalez dubbed Real Madrid "gross and indecent" for often releasing footage of the referring mistakes that hurt them. Gonzalez has a long history of being critical of the whites. In a 2013 interview with Spanish outlet MARCA, he shockingly admitted that Madrid lost more games at the Santiago Bernabeu Stadium when he was officiating.
In response to Gonzalez's latest attack, Los Merengues went on the offensive, releasing a video and claiming that Gonzalez's mask had come off. The caption to the 3:45-minute video read:
"This is Iturralde Gonzalez, the referee who has finally taken off his mask and is now dedicated to attacking Real Madrid from the media."
Gonzalez has also defended Barcelona over the Negreira controversy, claiming that it's is not unusual for clubs to take advice on referees. Additionally, he has insisted that the investigating committee will not find any wrongdoings on Barcelona's part.
His comments came after the Blaugrana were charged for allegedly paying €7.3 million to the former vice-president of the Technical Committee of Referees, Enriquez Negreira.
---
Nacho Fernandez hints at extending his stay with Real Madrid
Academy graduate Nacho Fernandez has been with the Whites his entire career. Having joined the senior team in 2012, the Spaniard has put in a shift whenever called upon, never hesitating to move out of his comfort zone. Naturally a center-back, Nacho has held his own as a full-back too.
Fernandez's contract expires in June, but renewal talks are yet to come to fruition. Amid uncertainty about his future, Nacho reiterated his love for the club, saying that he would not be as happy playing for any other team.
Speaking after helping his team to a 3-1 win over Espanyol, Nacho said:
"Everybody knows this is my home. I'm so happy because I'm putting together a good run of games, and I can feel it from a fitness perspective. I'm really happy right now, as I said, the decision on whether I stay won't depend on how much I play until the end of the season.
"Of course, if things keep going as they are right now, I won't be able to find the same feeling as I have [been] playing for these colours anywhere else. I like to live in the moment and I focus on things like this that make me feel fantastic."
Nacho has featured in 304 games for Real Madrid across competitions, scoring 15 times. He has won five Champions League and three La Liga titles with the club, among other honours.