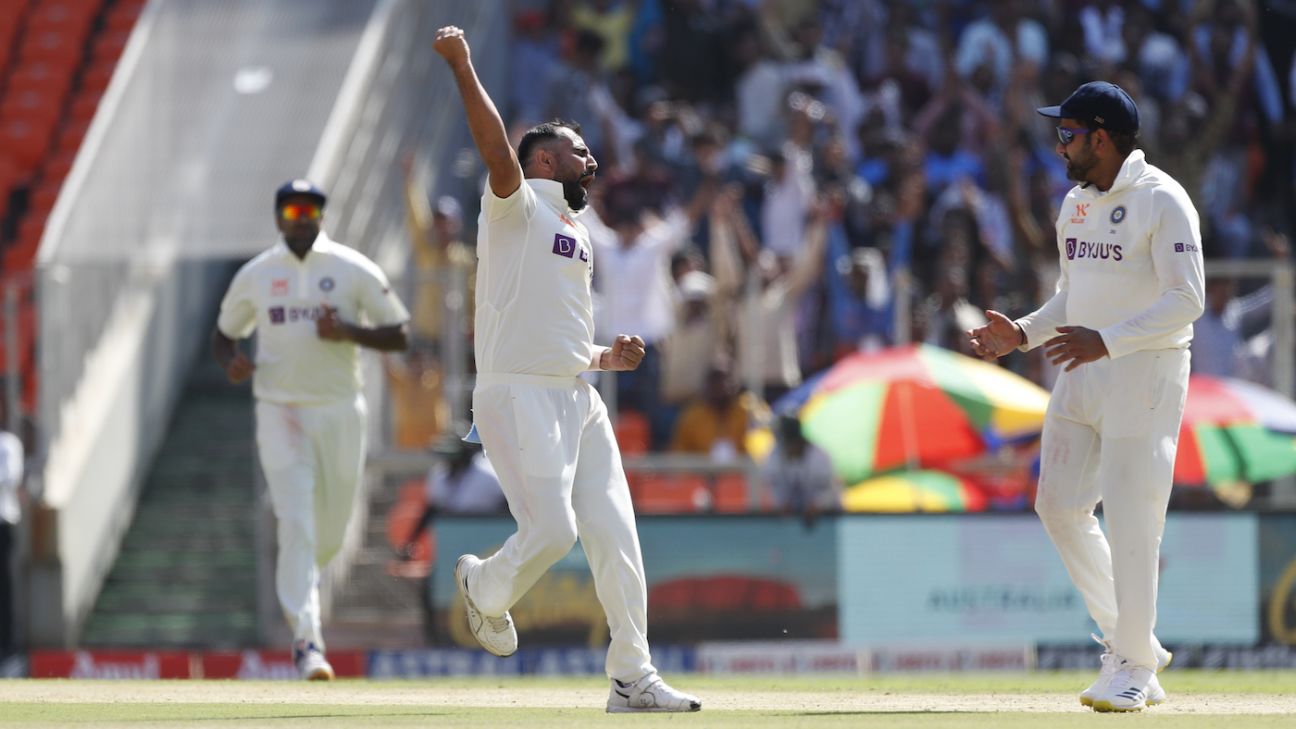 India have qualified for the final of the World Test Championship (WTC), setting up a date with
Australia
for the biggest global honour in the format. Their presence in the final was confirmed after
New Zealand
pulled off one of the most dramatic wins ever, off the last ball of their first Test against
Sri Lanka
in Christchurch, by two wickets.
The WTC final
race
had gone into Monday, with the results of both Test matches – in Ahmedabad and in Christchurch – equally relevant. If
Sri Lanka
had beaten New Zealand, they would have stayed in the
race
– if
India
didn't win in Ahmedabad – but with
Kane Williamson
hitting an unbeaten 121 and
Daryl Mitchell
scoring a quick 86-ball 81,
New Zealand
pulled off a win that didn't look possible for the longest time, off the very last ball of the game. The result put
Sri Lanka
out of the running for the WTC final.
Now, following their loss in Christchurch, even if
Sri Lanka
win the next Test, they will only go up to 52.78 points. That will be lower than India's 56.94 even if
India
go on to lose the Ahmedabad Test. If they draw – as looks most likely – India will finish on 58.80.
Australia
have already qualified: even if they lose in Ahmedabad, they will end with a percentage of 64.91.
Australia and
India
are the only teams which have won at least twice as many Tests as they have lost in the current WTC cycle (in Tests which counted towards the WTC).
Australia
have been stellar with a 11-3 win-loss record so far, with series wins against England,
West Indies
and South
Africa
(home), and
Pakistan
(away). They also drew in
Sri Lanka
(1-1), with the only series defeat coming in
India
(assuming a draw or a defeat in Ahmedabad).
India have a 10-5 record in this cycle, with series wins against New Zealand,
Sri Lanka
and
Australia
(assuming they win or draw in Ahmedabad) at home, and
Bangladesh
away. They drew 2-2 in England, and lost 2-1 in South Africa.
The WTC title contest will take place at The Oval in
London
from June 7.
Sri LankaIndiaNew ZealandAustraliaAustralia vs IndiaIndia vs AustraliaNew Zealand vs Sri LankaAustralia in IndiaSri Lanka tour of New ZealandICC World Test Championship