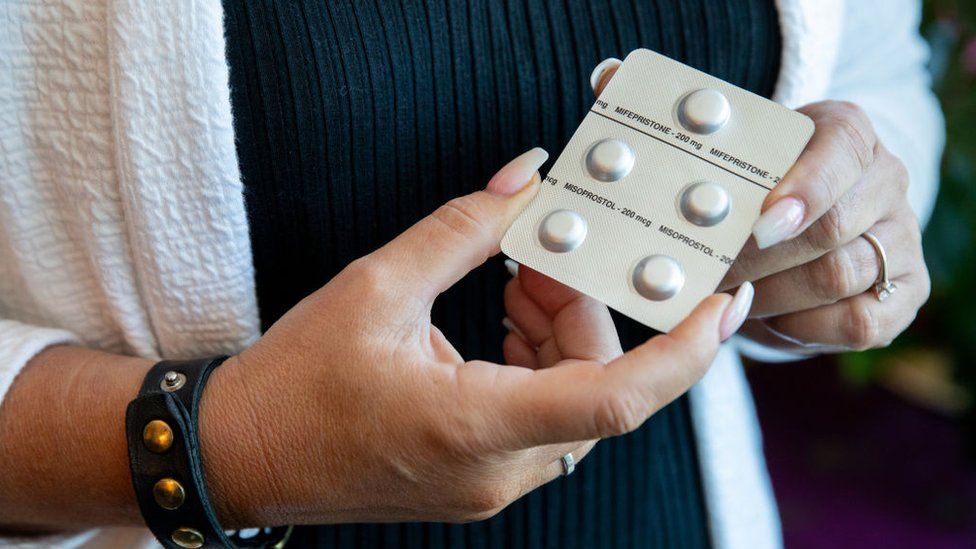 A Texas man is suing three women for helping his now-ex-wife obtain pills to have an abortion last year.
Marcus Silva's lawsuit heavily relies on text messages between his ex-wife and the three women.
It is the first such lawsuit in the state since the Supreme Court quashed constitutional abortion protections.
Mr Silva is seeking $1m (£800,000) in damages. His ex-wife's friends allegedly texted her information about Aid Access, an international group that provides abortion medication by mail.
Text messages reveal Mr Silva's ex-wife was concerned he would try to make her stay with him if he learned about the pregnancy.
One of the women dropped off the pills to Mr Silva's ex-wife, the lawsuit says.
The legal action claims the drug manufacturer will also be named as a defendant once they are identified.
There is also a conspiracy charge against the women – the lawsuit alleges they told Mr Silva's ex-wife to hide the pregnancy and their text messages about the baby from him.
Mr Silva's former wife is not named as a defendant – under Texas law, a pregnant person is exempt from prosecution.
They have two daughters together, according to the lawsuit.
She filed for divorce in May 2022 before the divorce was finalised in February 2023. The lawsuit alleges she learned she was pregnant in July 2022, after the Supreme Court overturned Roe v Wade , but a month before the state's trigger law banning abortion came into effect, which made providing an abortion a felony punishable by up to life in prison except to save the life of the mother.
Even before the trigger ban was in effect, there were a number of other restrictions on abortion in the state.
In 2021, Texas passed a law that made most abortions illegal after about six weeks of pregnancy. It gave citizens the right to sue anyone who "knowingly engages in conduct that aids or abets the performance or inducement of an abortion". A pre-Civil War ban on abortions was also still on the books when Roe v Wade was overturned.
Mr Silva is being represented by Republican state representative Briscoe Cain and Jonathan Mitchell, a former solicitor general who helped pen one of Texas' abortion bans.
The defendants did not immediately respond to a request for comment.
You may also be interested in:
Related Topics
Abortion
Texas
US abortion debate