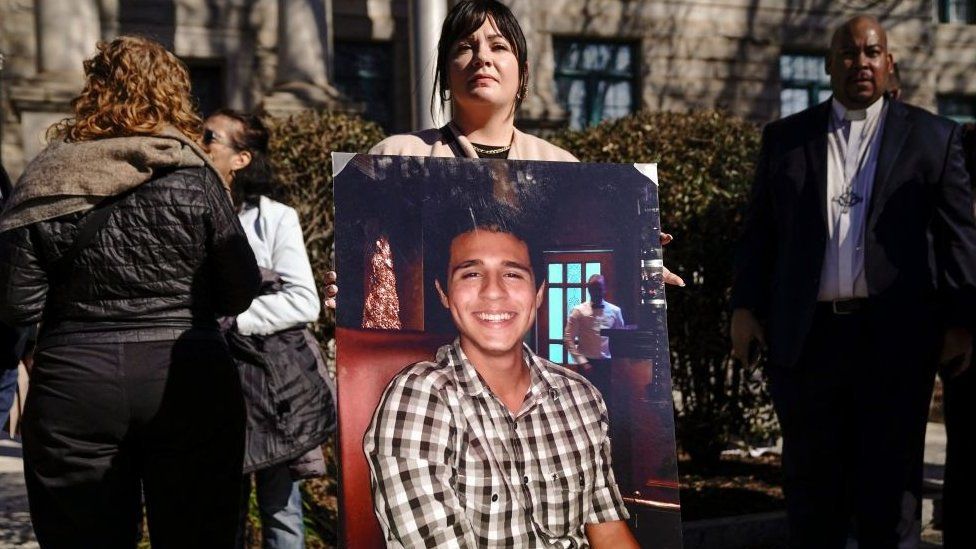 The family of an environmental activist who was shot and killed by police have said an independent autopsy suggests their hands were raised at the time they died.
Manuel Paez Terán's family said the report showed the activist was shot at least a dozen times.
The incident on 18 January came amid protests of the development of a large police training facility in Atlanta.
Police have accused the 26-year-old of firing at and injuring a state trooper.
The family's autopsy report said it was "impossible to determine" if the activist was holding a firearm at the time they were shot.
Manuel Paez Terán, who went by the name Tortuguita and used they/them pronouns, had been camping in protest at the development of a police and firefighter training facility, dubbed "cop city" by opponents.
In a news conference on Monday, the family said they will file a lawsuit to force Atlanta police to release additional evidence.
They said the autopsy they commissioned suggested the activist was not being violent at the time of their death.
They were "looking death in the face, hands raised when killed," civil rights lawyer Brian Spears said.
Authorities have commissioned their own autopsy but the results have not yet been made public.
The Georgia Bureau of Investigations (GBI), which opened a probe into the death two months ago, said in a statement last week that it is preventing the "inappropriate release of evidence" to maintain the integrity of the investigation.
Manuel Paez Terán died in the South River Forest in Atlanta, where authorities are planning to build the 85-acre, $90m (£74m) training facility.
Authorities have said that police fired after the protester shot and seriously injured a state trooper when officers were clearing out the forest.
There are no videos of the shooting from body or dash cameras, the GBI has previously said.
The bureau added that ballistics evidence showed the trooper was shot with a bullet from a gun that belonged to Manuel Paez Terán.
The investigation so far, it said in a statement last week, "still supports our initial assessment".
Mr Spears said that, despite the independent autopsy, it was still unclear what happened when Manuel Paez Terán was killed.
"The second autopsy is a snapshot of what happened, but it is not the whole story," Mr Spears said.
Separate unrest earlier this month resulted in Atlanta police charging 23 people with domestic terrorism offences.
Related Topics
Policing
United States
Atlanta