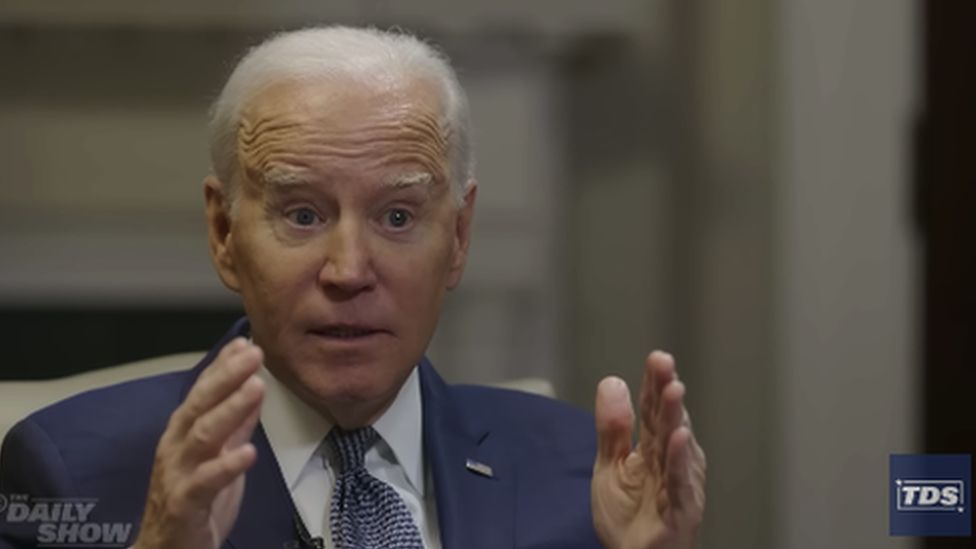 In an interview with The Daily Show, he said federal laws should be passed to ban states from curbing trans rights.
It comes amid an uptick in anti-trans bills being debated in Republican-controlled US states.
Supporters say new laws are needed to protect children and help parents.
"It's not like a kid wakes up one morning and says, 'You know, I decided I want to become a man or I want to become a woman or I want to change'.
"I mean, what are they thinking about here? They are human beings. They love. They have feelings. They have inclinations that are… it just to me, is, I don't know is, it's cruel."
A decision by Florida's top medical board last month is due to take effect later this week. It bans puberty blockers, hormones and surgical procedures for patients under 18.
Another Florida law passed last year, dubbed the "Don't Say Gay Bill" by critics, bans teachers from discussing sexual orientation and gender identity with children under 10.
Florida Republican Governor Ron DeSantis, who is widely expected to run for president in 2024, has said new rules were necessary to defend parental rights, protect children and avoid hasty life-altering choices.
Last week, Tennessee Governor Bill Lee signed new laws banning drag performances in front of children and restricting medical treatment for transgender youth.
Mr Lee's office said the ban on drag shows "specifically protects children from obscene, sexualized entertainment".
His views came to change, and in 2012 during his time as vice president, he spoke out in favour of marriage equality.
In his interview, Mr Biden also described an epiphany he had in high school when he saw two men kissing outside a building in Delaware.
"I'll never forget – I turned and looked at my dad. He said, 'Joey, it's simple. They love each other,'" he said.
Related Topics
Florida
LGBT
Transgender people
United States