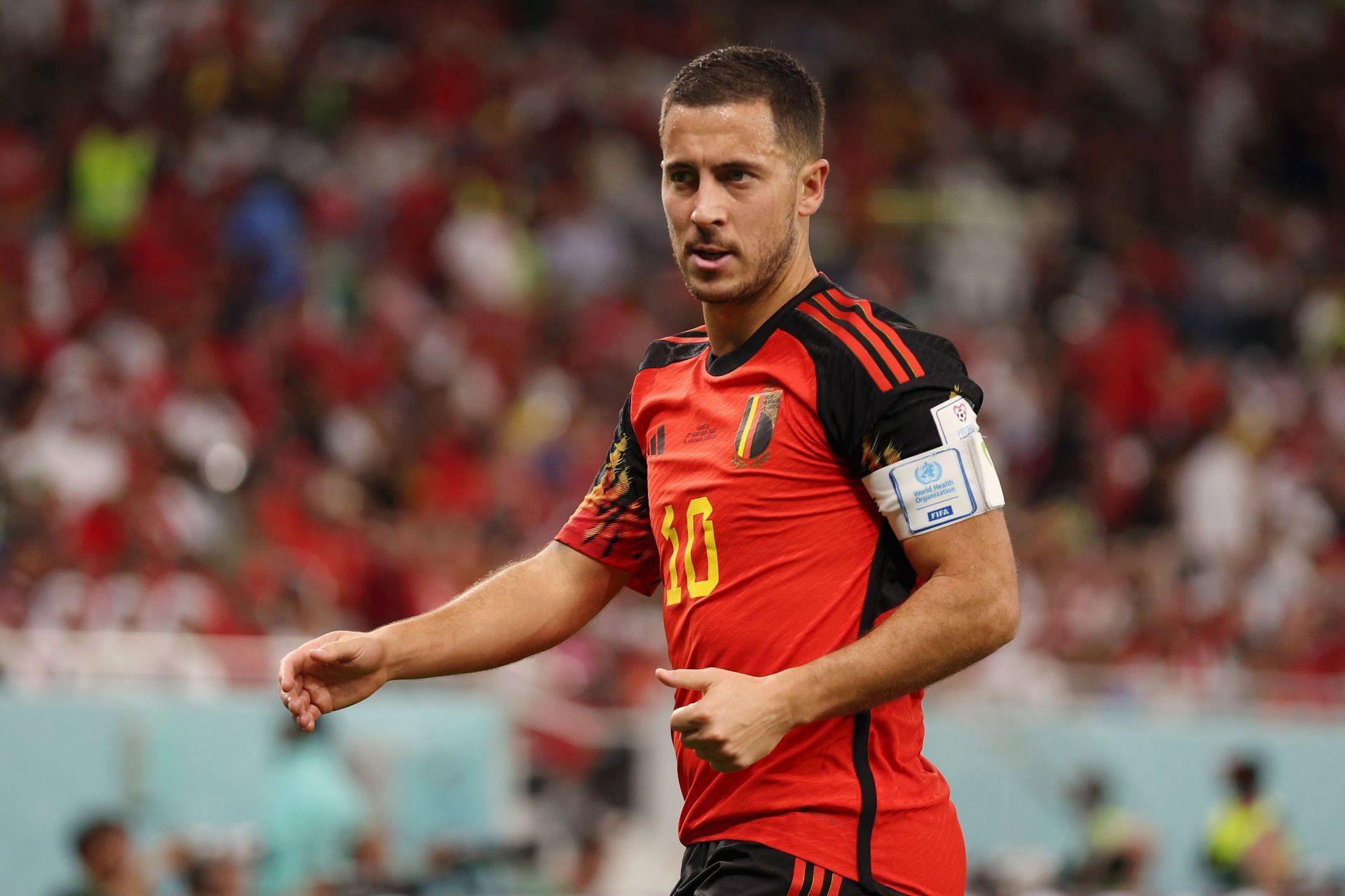 Real Madrid superstar Eden Hazard has used Cristiano Ronaldo's example to show why Arsenal's Leandro Trossard should have taken his place at the 2022 FIFA World Cup.
Then-Belgium coach Roberto Martinez started Arsenal ace Trossard in only one match at the 2022 FIFA World Cup, with Hazard starting the other two. Trossard had impressed for Brighton prior to the World Cup, scoring seven times and claiming three assists in 17 games across competitions.
Portugal ace Cristiano Ronaldo, on the other hand, was dropped to the bench for both of their knockout clashes against Switzerland and Morocco, with Goncalo Ramos starting ahead of him. Then-manager Fernando Santos made the call after Ronaldo cut a frustrated figure in Portugal's 2-1 defeat to South Korea in their final Group H game.
Speaking to RTBF, Hazard admitted that Trossard deserved to start in Qatar, adding that he was surprised that Martinez did not give the Arsenal man a shot. When asked whether or not he was saddened to hear calls for retirement, Hazard replied:
"Not at all. We were talking about the name of Leandro Trossard to replace me, he was having a good season. Even I wondered why I had to play when he had to go on the bench. It's normal for people to think that.
"Especially after the game against Egypt, where we don't play a good game, where I don't play a good game."
Hazard then went on to compare his situation with Ronaldo, who is considered an icon in Portugal.
"Cristiano Ronaldo did not play the last matches of the World Cup with Portugal, and yet it is Cristiano with Portugal, it is even more than Eden with Belgium. It is football, there are young people who grow, who want to take the place."
Having scored 33 times in 126 games for Belgium, Hazard announced his international retirement on Monday (March 13). The former Chelsea superstar failed to win a trophy with his national team.
---
Jamie Redknapp dubs Arsenal skipper Martin Odegaard as the Premier League's best midfielder
Former Liverpool man Jamie Redknapp has claimed that Arsenal captain Martin Odegaard has outshone Kevin De Bruyne to become the best midfielder in the Premier League.
Redknapp has hailed Odegaard's leadership and ability to remain calm under pressure while insisting that De Bruyne has not been himself this season. Discussing Odegaard's abilities, Redknapp told Sky Sports:
"Right now he's No. 1. There's nobody [better]. Normally we would say Kevin De Bruyne is the best midfield player, not just in the Premier League but the world, but something isn't quite right.
"He isn't playing as many games as he'd like. But Odegaard does this thing where – all great players possess it – it's like time stands still when he has the ball. The calmness that he possesses, he's scored four or five goals like that with that left foot."
Odegaard has fired on all cylinders for Arsenal this season, recording a career-high 10 goals and seven assists in 33 games across competitions.