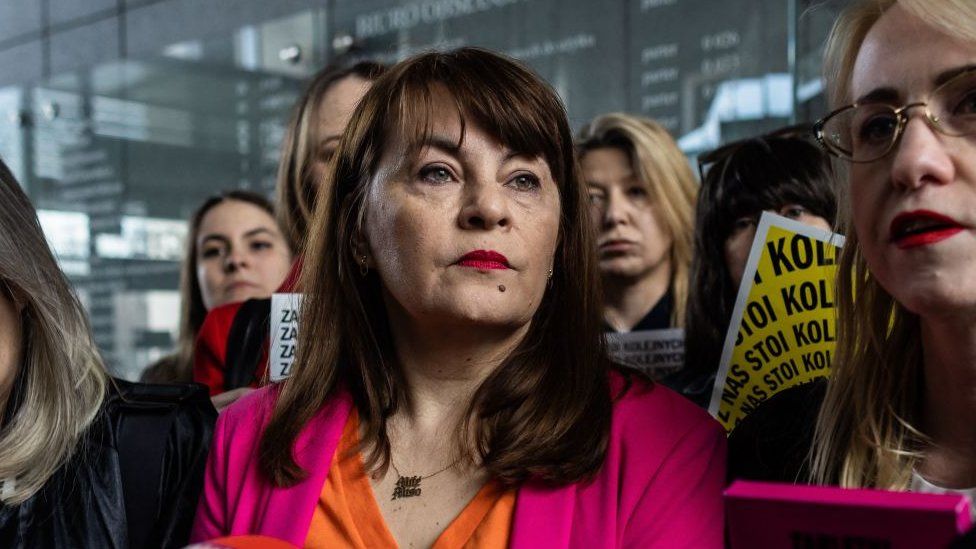 A Polish woman has been sentenced to eight months of community service for illegally helping another woman to have an abortion.
Abortion has been almost completely banned in Poland and Justyna Wydrzynska is thought to be the first activist to be tried for aiding a pregnant woman.
Providing help can now fetch up to three years in prison in Poland.
The woman Ms Wydrzynska sent the pills to did not end up having an abortion.
UN officials, gynaecologists and human rights groups had all appealed for the case to be dropped.
Ms Wydrzynska, who will appeal against the verdict, told the court she had sent a package of abortion pills to the pregnant woman when she found out that she was in an abusive relationship.
The woman involved, named as Ania which is not her real name, had planned to travel to a clinic in Germany to terminate her pregnancy, but was unable to travel when a Covid-19 lockdown was imposed. She then sought help online.
When Ania's partner found out about the pills he confiscated them and reported the activist to police. She never had the baby but subsequently had a miscarriage, according to reports.
Addressing the court, Ms Wydrzynska said she was innocent and that the state had failed her, Ania and other women, Polish website Oko.press reported: "I was driven by the desire to help, when no-one else wanted to or could help."
Protesters gathered outside the court in Warsaw holding Jak Justyna (I am Justyna) banners and Amnesty International condemned the sentence as a "depressing low in the repression of reproductive rights in Poland".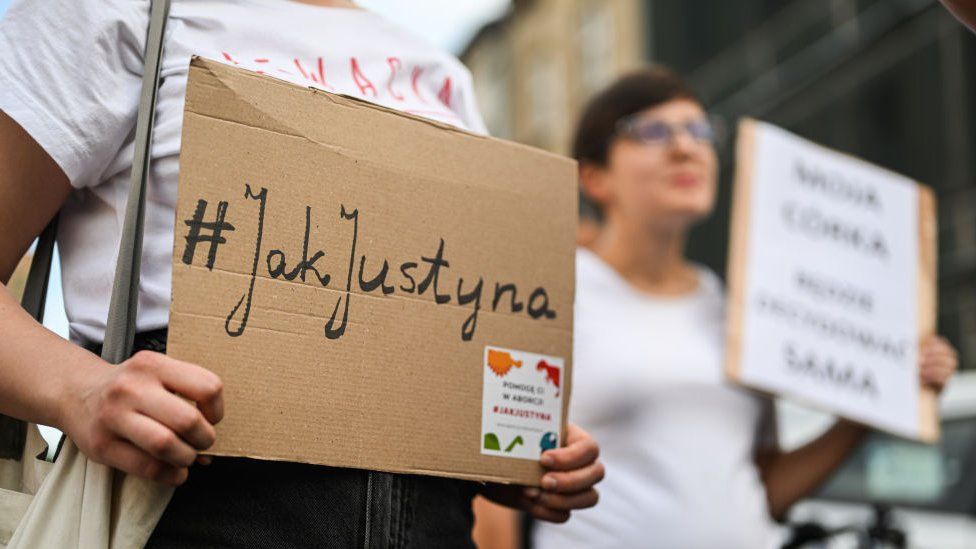 Since 2020, abortion in Poland has been allowed only in cases of rape or incest or when the pregnancy endangers the health of the mother. Only Malta has stricter abortion laws in the European Union and the decision led to widespread protests in Poland.
Activists and women's rights groups say the 2020 court ruling has had a chilling effect on doctors who now fear repercussions even when there are legal grounds for an abortion.
When a pregnant woman died in a Polish hospital in 2021, her family said the laws stopped doctors from intervening and the government had to update the guidelines. Izabela, 30, died of septic shock as doctors are alleged to have waited for her unborn baby to die.
Although Ms Wydrzynska's lawyer had called for an acquittal, prosecutors had sought a longer term of community service. Ultra-orthodox Catholic legal group group Ordo Iuris which took part in the trial said she should receive a suspended jail term.
The verdict is thought to be the first time an activist, rather than a family member or doctor, has been put on trial for helping someone have an abortion in Poland.
Last year, the international federation of gynaecology and obstetrics (Figo) wrote to public prosecutor general Zbigniew Ziobro calling on him to drop the charges and halt further "reprisals" against Ms Wydrzynska or other activists and fully decriminalise access to abortion.