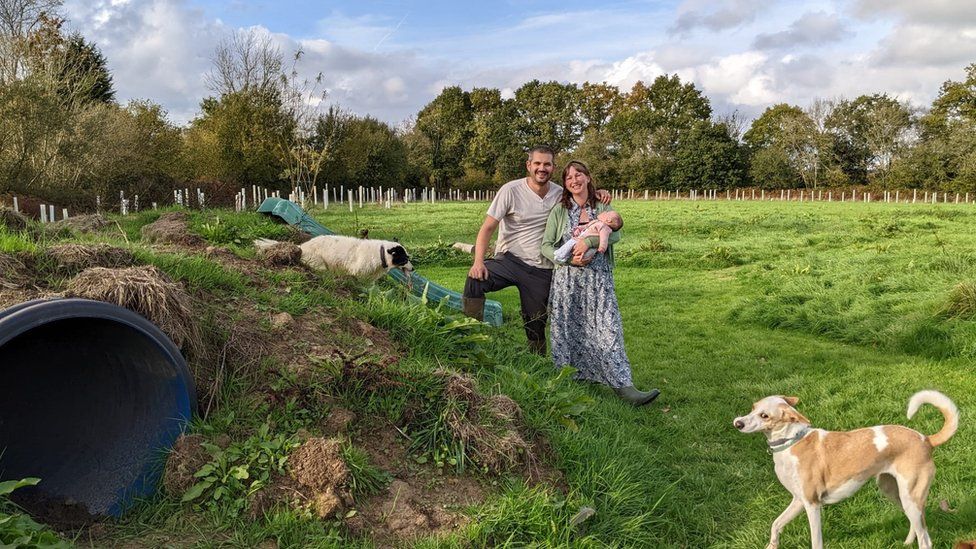 A couple whose baby died after he was starved of oxygen during a home birth are campaigning for risky breech deliveries to be spotted earlier.
Arthur Trott was an undiagnosed breech baby, born after a planned home birth in Burgess Hill on 24 May 2021.
An inquest into his death found a delay in transfer to hospital "materially contributed" to his brain injury.
A breech delivery is when a baby's bottom or feet will emerge first.
Mrs Trott, 33, went into labour at home at 03:00 on 24 May 2021 when she was 37 weeks pregnant.
About two hours later, it was recognised Arthur was "an unanticipated footling breech", the Record of Inquest states.
A 999 call was made and the first paramedics attended at about 05:50.
Mrs Trott arrived at the hospital at about 06:30 and Arthur was delivered minutes later.
He was born in a very poor condition and died four days later.
Mrs Trott said: "Life without Arthur is very painful. There is a real gap in our family where he should be and it will forever feel like a part of us is missing."
Arthur's parents believe a breakdown in communication between the paramedics who attended and their control room meant Mrs Trott was kept at home too long.
Arthur's father, Matt Trott, said: "You could hear the panic and confusion in everyone's voices. One minute they were told to go to hospital, the next minute to stay."
As a result of Arthur's death, all planned home births in Sussex are being offered a presentation scan at 38 weeks.
Mrs Trott said: "I've since found out I had all the tell-tale signs of a footling breech, such as feeling kicks in my lower stomach and a hard swelling below my ribs, but I didn't know what they were."
A spokesman for Secamb: "We offer our sincere condolences to Mr and Mrs Trott and we welcome any changes to national breech birth guidance aimed at improving maternity care."

Follow BBC South East on Facebook, on Twitter, and on Instagram. Send your story ideas to [email protected]
Related Topics
Burgess Hill
Childbirth
NHS