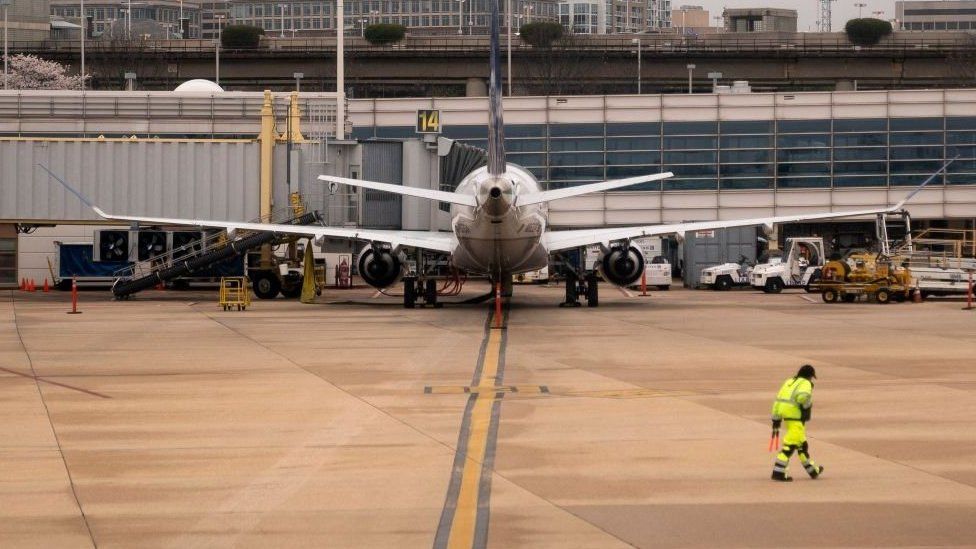 Aviation officials are investigating a close call between two planes at Ronald Reagan Airport in Washington, DC.
On 7 March, a Republic Airways flight crossed the runway without clearance after a United Airlines flight had just been cleared for take off.
The incident is the latest in a string of close calls across US airports.
In a statement to the BBC, the FAA confirmed that it was investigating the incident involving Republic Airways Flight 4736, bound for Raleigh, and United Airlines Flight 2003, bound for Chicago.
The pilot of the Republic Airways flight was cleared to cross the runway but turned on the wrong taxiway, the agency said. The incident occurred around 08:30 local time.
Preliminary data from Flightradar24 shows the two planes were more than 2,300 feet apart at the time. The FAA said it was determining the closest distance between the aircrafts as part of the investigation.
The news comes ahead of a FAA safety summit on Wednesday – the first to be held since 2009 – that will kickstart a sweeping review in the wake of several near-collisions at US airports.
In January, the agency launched an investigation after two planes full of passengers nearly collided at John F Kennedy International Airport in New York City.
One plane was about to take off while the other was crossing the same runway. The collision was averted when an air controller noticed the two.
Another near-collision was reported in February between a FedEx cargo plane and a Southwest passenger flight at a Texas airport.
Related Topics
Aviation safety
Air travel
United States