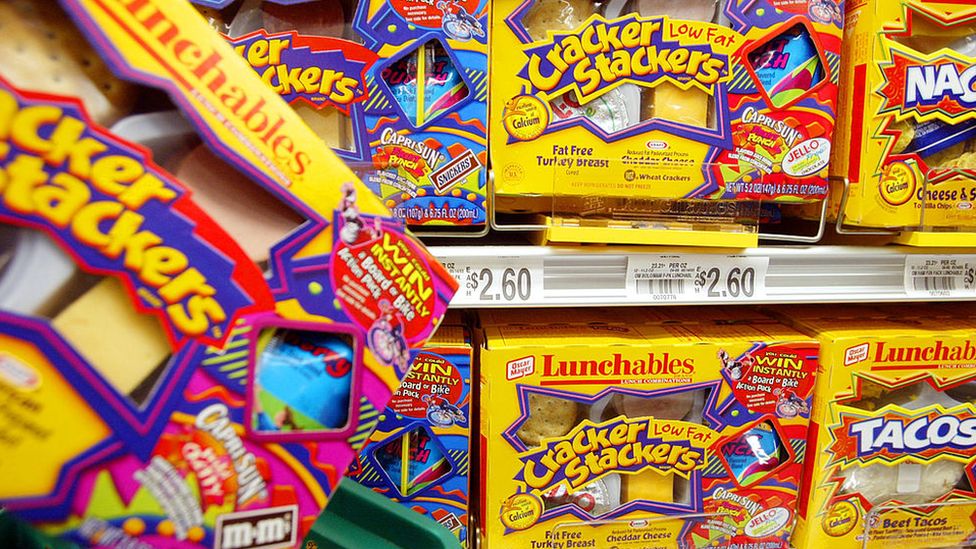 Lunchables, once the nemesis of health-conscious parents, now have the seal of approval from the US government.
The bento-like box of crackers, deli meats and other snacks has been available in grocery stores since 1988, but will start to be offered in school cafeterias this autumn.
The product will be reformulated to offer two options that comply with school nutritional guidelines.
But can the lunch choice of the cool-kid table convince its detractors?
Ask any millennial, and they will tell you – there were two kinds of children growing up: The ones who were allowed to eat Lunchables, and the ones who were not.
It was marketed as a complete lunch to go, with a drink, protein and a dessert. While some varieties seem fairly standard, like "turkey and cheddar cracker stackers" others were riffs on popular fast food, like pizza or chicken nuggets. Most boxes included a mini-sized candy bar or cookie.
At a couple of dollars a pop, many parents deemed them too expensive, and too unhealthy – a sign of the 20th Century's waning wholesomeness.
Now, the generation that grew up on Lunchables have become parents themselves. TikTok is full of DIY Lunchable recipes that use less processed foods, as well as nostalgic homages to adults' favourite Lunchables growing up. Some have even credited the store-bought snack with popularising the charcuterie board for grown-up millennials.
Noran Osman, mother to newborn son Zayn, said her own fond memories of eating Lunchables on special occasions growing up would likely motivate her to offer the meal to her son every now and then as he gets older.
"I think it was my first memory of feeling like food was an experience rather than a chore I had to finish so my parents don't get mad," said the 29-year-old, who lives in Tampa, Florida. "In an age with picky eaters and negative food associations, I think it's beneficial for kids to feel like they participate in making their own food, even if it's just in the assembly."
But news that Lunchables would be coming to school cafeterias was also met with some scepticism.
Ava Macha, 25, said she wanted to eat Lunchables every single day as a child growing up in Idaho – and though her mother sometimes allowed it, her father, a doctor, resisted her requests.
"Looking back, I'm so glad that instead my dad would pack us a lunch that didn't contain all of those preservatives and empty calories in those little packages," she said.
Kraft Heinz, the company that makes the product, said that this autumn it would start offering two varieties with "improved nutrition" – "Lunchables Turkey and Cheddar Cracker Stackers" and "Lunchables Extra Cheesy Pizza" – designed to meet National School Lunch Program (NSLP) guidelines. The program, which was recently revamped to put limits on sugar and sodium in school lunch menus, feeds over 30 million students from kindergarten to Grade 12.
The BBC has reached out to Kraft Heinz for comment.
US proposes first-ever limits on sugary foods in school meals
Mario Sulaksana, 28, was not allowed Lunchables growing up. Although he said it may be an affordable option for busy parents, he feels the product does not also need to be endorsed by the school cafeteria.
"I think we can at least attempt to give them meals that are slightly more nourishing and creative," he said.
Skip
twitter
post by 𝓛𝓪𝓾𝓻𝓮𝓷, ᴄʜᴇᴢ Lᴀᴜʀᴇɴ
The BBC is not responsible for the content of external sites.
End of
twitter
post by 𝓛𝓪𝓾𝓻𝓮𝓷, ᴄʜᴇᴢ Lᴀᴜʀᴇɴ
Kraft Heinz has not provided a nutritional breakdown for the meals online, but said the turkey box provides 2oz (57g) of what the NSLP considers a meat or meat alternative and 1oz of grain, while the pizza box provides 2oz of meat or meat alternative, 2oz of grains, and 1/8 of a red/orange vegetable.
Both products meet the program's "whole grain" criteria.
Meghan Maroney, federal child nutrition programs campaign manager at the Center for Science in the Public Interest (CSPI), said she is concerned about these kinds of so-called "copycat" foods – foods that have been made healthier for school lunches, but sell a less healthy, and probably tastier version, in the grocery store.
"They're really marketing foods to parents when they do this," she said. "It's confusing to parents and kids."
She said Kraft Heinz has been advertising Lunchables to schools and state organisations for several months.
On its promotional website, the company touted Lunchables as helping to cut down on labour and save money.
Diane Pratt-Heavner, a spokesperson for the School Nutrition Association, which represents individuals and companies who work in school cafeterias, including Kraft Heinz, said that labour shortages affecting the food industry as a whole have made it especially hard for school meal programs, which must operate on a tight budget.
"Schools are trying to find more products that meet these challenges," Ms Pratt-Heavner said.
With additional reporting by Madeline Halpert.