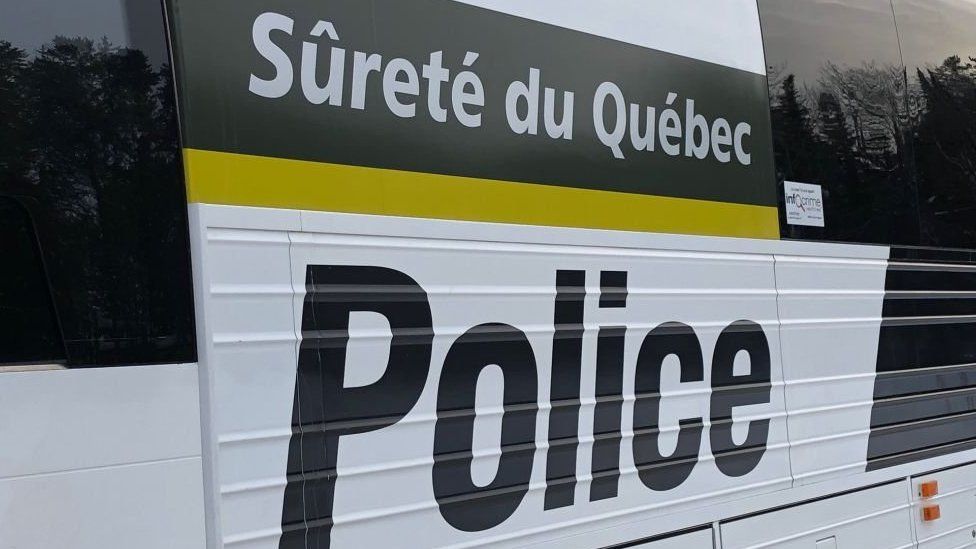 The act was "premeditated" police said, but the suspect chose the victims at random.
Gérald Charest, 65, and Jean Lafrenière, 73 were identified as the two that died in Monday's crash.
Nine others were injured in the incident, including a baby and a toddler.
Three of the victims remain in hospital in critical condition.
Quebec provincial police have identified the suspected driver as 38-year-old Steeve Gagnon.
Mr Gagnon, a resident of Amqui, turned himself in to authorities and is facing two charges of dangerous driving causing death. He appeared in court briefly on Tuesday.
Police were called to the incident at around 15:00 (19:00 GMT) on Monday, following reports of a collision between a vehicle and pedestrians.
Sgt Claude Doiron, a spokesperson with Quebec's provincial police force, said the driver appeared to have swerved from one side of the road to the other in order to hit the victims.
Witnesses said the pickup truck drove up on to the sidewalk in front of a microbrewery in Amqui, a town with a population of around 6,300 residents.
Daniel Thériault, who knew the two victims who died, told the CBC that the incident has been a "nightmare" for their families.
"I am very angry," said Mr Thériault. "There's a shock because we often take a walk on this boulevard."
The ages of the victims ranged from less than one year to 77, police said.
Six victims, including a baby and a toddler under the age of three, were transferred by plane to a hospital in Quebec City, about 400km (250 miles) southwest of Amqui.
Both children were seriously injured but are in stable condition, the hospital said.
Quebec Premier Francois Legault has called the incident "shocking".
On Tuesday, Prime Minister Justin Trudeau offered his condolences to the families of the victims.
"We all have lots of questions, but right now we're just trying to be there for survivors and families," Mr Trudeau said. "And we will continue to be there as long as it takes as they get through this difficult time."
The crash comes just two months after two children were killed when a bus driver drove into a Montreal daycare centre.
Police believe the daycare crash was deliberate, and the driver has been charged with first-degree murder.