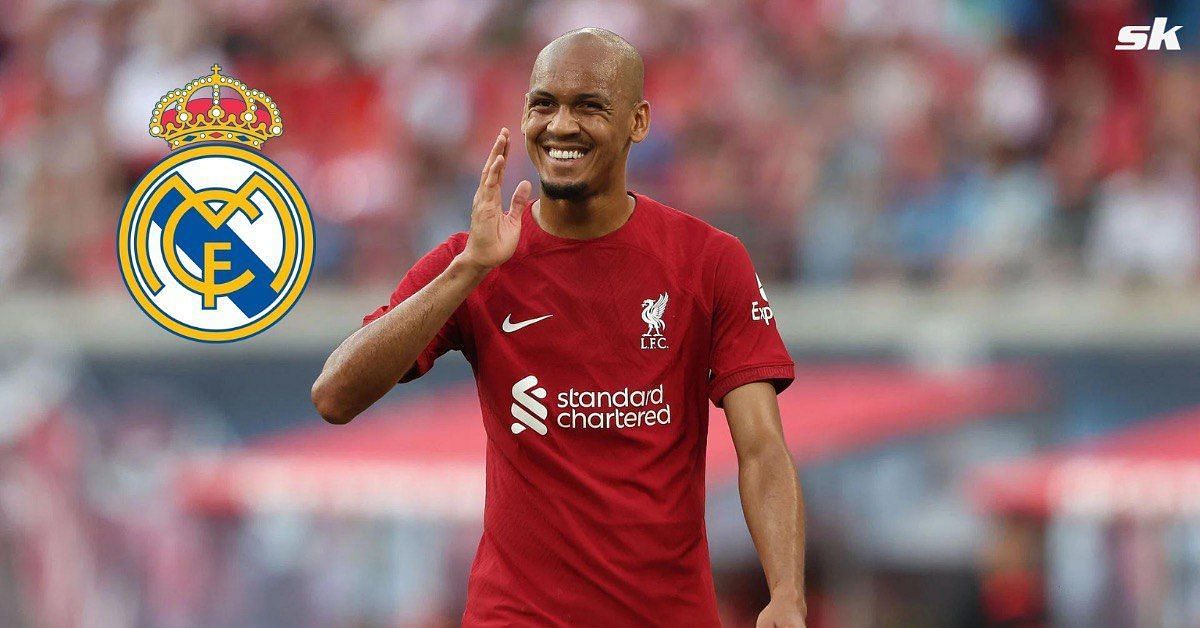 Liverpool midfielder Fabinho has showered praise on Real Madrid superstar Vinicius Junior, admitting that it will be difficult for the Reds to stop him.
Real Madrid secured an emphatic 5-2 win over Liverpool in the first leg of their Champions League Round of 16 clash at Anfield on February 21.
Vinicius Junior emerged as one of Los Blancos' best players, scoring the first two goals in the 21st and 36th minutes respectively. The first goal, which he scored after cutting in from the left and curling the ball into the bottom-right corner from the edge of the box, was close to unstoppable.
Ahead of the second leg on Wednesday (March 15), in which the Merseysiders will have to overturn a three-goal deficit, Fabinho lauded his compatriot Vinicius Junior. Here's what the former Real Madrid man had to say in a pre-match press conference:
"Vini is in an amazing time in his career. He's one of the main players for Real Madrid. In the first leg he showed why he's at that level, especially the first goal he scored. It will be a great challenge to stop him."
The 22-year-old left-winger has fired on all cylinders for Real Madrid this season. Ever-present in the starting XI, Vinicius has scored 19 times and has claimed nine assists in 39 matches across competitions.
---
Liverpool boss Jurgen Klopp outlines one "massive" trait that makes Real Madrid "fantastic"
Liverpool manager Jurgen Klopp has lauded Los Blancos for their ability to remain stoic in the face of adversity. Speaking at a pre-match press conference on Tuesday (March 14), Klopp claimed that the Whites are not negatively affected by anything and never lose conviction.
Klopp said:
"They don't lose conviction or confidence, it's a massive skill for a team. Nothing can really excite them negatively. Absolutely admirable. The way they play, we play differently, so it's about the mentality, they have all my respect, a fantastic team."
Los Merengues turned their fortunes around in each knockout tie in the 2021-22 Champions League campaign, doing so against Paris Saint-Germain (PSG), Chelsea and then Manchester City. In the final, they beat Liverpool, securing a 1-0 win despite being under the cosh for most of the game.
In the Round of 16 first leg in February, Madrid came back from 2-0 down to pick up a massive 5-2 victory over Klopp's men. Karim Benzema and Vinicius Junior scored braces on either side of an Eder Militao goal.