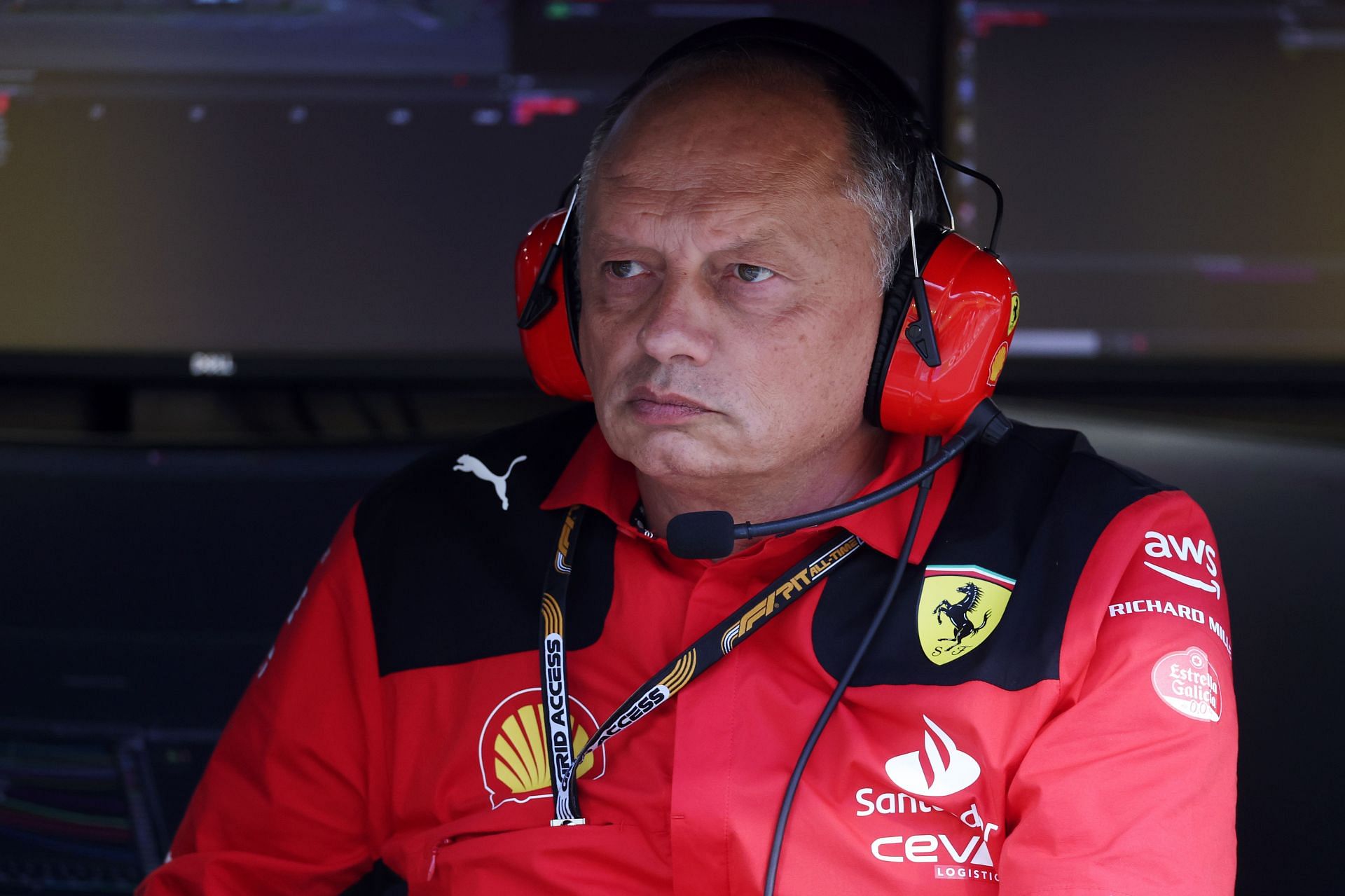 There appears to be a lot of turbulence at the Scuderia Ferrari, overseen by Frederic Vasseur, after just one race in 2023. The team principal was able to deny most of the rumors, but the departure of aerodynamicist David Sanchez appears to be unavoidable.
After just one race, Vasseur was able to clear his throat and disprove the majority of the rumors swirling about his squad. For example, the team manager is claimed to have adequate freedom of movement inside the team to complete his work, the conversations between Charles Leclerc and John Elkann were simply arranged meetings, and individuals arriving and going at the team is inevitable.
David Sanchez is one person who may be leaving, and that idea is becoming more credible given that it looks like there is potentially a replacement. According to Italian media, Diego Tondi has been appointed head of automobile concept, replacing Sanchez.
Tondi is also the team's head of aerodynamics, and him holding two posts does not appear to be a strong strategy, according to Ferrari, which has not yet published or verified anything.
🚨| Although it is not confirmed yet, Diego Tondi is reported to take David Sánchez place at Ferrari.

His 15 years of expertise plus some new incorporations from Red Bull are supposed to bring some fresh air to the Italian team. pic.twitter.com/LGWdsoWdfq

— Formula World (@Formula_World__) March 13, 2023
The trigger for all the rumors was David Sanchez's resignation today, the French engineer posted an announcement on LinkedIn formalizing his departure, saying that it had been determined for some time that the hunt for additional names who may quit GeS in the coming weeks was released in the Italian media.
There appears to be an effort to undermine Fred Vasseur's administration. The French team principal is learning what it takes to be the leader of a system that is unlike any other. It appears that even Piero Ferrari, who is normally reserved when it comes to taking a position, warmed up to what he read over the weekend after the engines were turned off.
For the time being, the Scuderia wants to keep mute. There is no desire to wade into controversy, preferring to focus on the second race, which will take place this upcoming weekend at the Jeddah Corniche track in Saudi Arabia. A completely different circuit from Bahrain, which should benefit the SF-23's characteristics, since aerodynamic efficiency will be more important than downforce.
Laurent Mekies, who was designated to depart following David Sanchez, is expected to routinely replace him on the pit wall for the next round of the season. The fact that the Frenchman is seeking a new position is accurate, but he may still stay with the Italian team by fulfilling the contract that binds him to Ferrari until 2024.
According to Motorsport Italy, Diego Tondi, head of aerodynamics, has taken on the job of David Sanchez. The Italian is aided by a couple of Red Bull executives who have recently joined with the hope of delivering a breath of new air from the world champion team.
---
Fred Vasseur addresses rumors that Charles Leclerc has requested a meeting with Ferrari's chairman
Ahead of the upcoming Saudi Arabian Grand Prix, reports in Italy stated that Charles Leclerc had requested and been granted a meeting with Ferrari chairman John Elkann. The Monégasque driver is said to be concerned by Ferrari's slow start to the season and wanted reassurance that he could build on his P2 finish in the Drivers' Championship last season.
But, in an interview with Auto Hebdo, Vasseur gave some insight into the Ferrari meetings, stating that one with the drivers, Elkann, and Ferrari CEO Benedetto Vigna took place after winter testing, with another slated after Imola on May 21, Round 6 of the F1 2023 season. Vasseur stated:
"We spoke with the drivers, Elkann and Vigna after winter testing, and we will all speak again together after Imola. These meetings are planned."
Ferrari have been tipped as a stronger challenger against Red Bull in Jeddah, with the high-speed circuit that is less demanding on tires likely to be a better match for the SF-23.