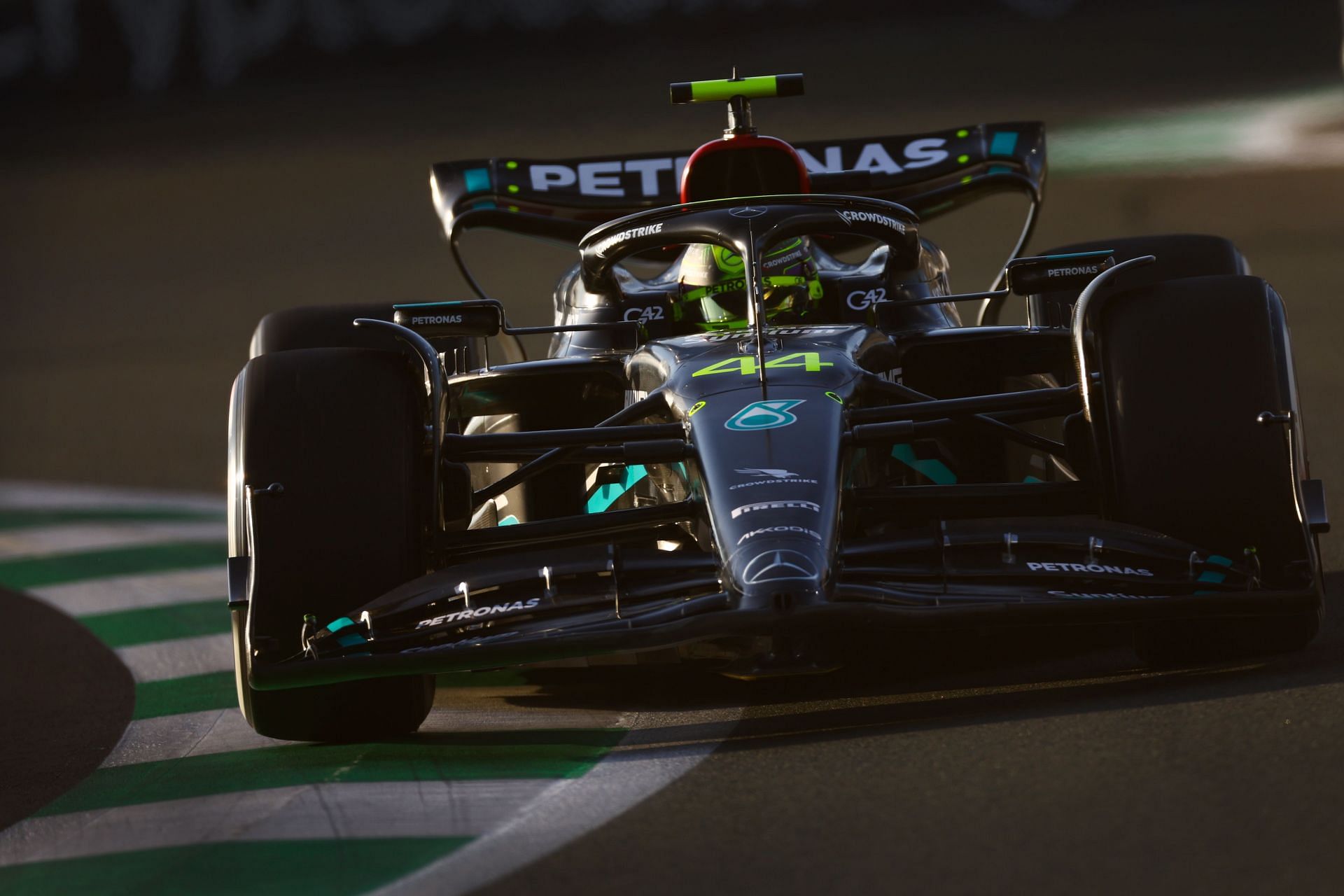 Lewis Hamilton was unhappy with Mercedes W14's performance in the first two practice sessions of the 2023 F1 Saudi Arabian GP. He finished sixth and eleventh in the first and second practice sessions, respectively. This shows how much the Silver Arrows are struggling in the 2023 F1 season.
Speaking to the media, including Sportskeeda, Lewis Hamilton stated how bad both practice sessions were. He said:
"[FP2] was pretty much the same [as FP1]. So a second off or whatever it was but for me, I definitely struggled in the session. I struggled in both sessions."
The seven-time world champion further explained how the W14 was quite similar to Mercedes' 2022 challenger, the W13. He added that the team was specifically trying to improve the balance of the car and tweak other details. However, the changes were in vain, as the car is still difficult to drive. Lastly, he mentioned that the team back at the factory in Brackley is still working hard to turn the car around. He said:
"[The W14 is] pretty much the same [as the W13] We just continue to go into detail, trying to improve the balance of the car to make it easy to drive. It's just a tough car to drive but I know everyone's working so hard in the factory. So it's just a matter of time, just having to be patient."
Mercedes tried to continue with a similar car concept that they introduced back in 2022. However, as soon as pre-season testing began in Bahrain, they realized that even the smaller changes and updates to the concept won't make the car faster.
---
Lewis Hamilton is confident that he will win despite Mercedes' woes
Despite Mercedes' poor start to the 2023 F1 season, Lewis Hamilton believes that he and his team will win races and even championships once they iron out all their issues. While admitting that the recovery process might take some time, he highlighted the importance of reacting positively to adversity. The Brit said:
"Yeah, I will win again. It's just going to take some time. Of course, in 2021 when we were here, we were hoping to be fighting for another World Championship. You know, you never know what's up ahead. There will be things that happen in our in all of our lives that we least expect. But it's not how you fall, it's how you get up."
He added:
"It's how you deal with it. It's how you show up. It's how you continue to remain positive and tackle the issues that you're faced with. And so that's where my energy is going into."
Ever since the 2021 F1 season, where Max Verstappen won his first world championship by defeating Lewis Hamilton, the latter has been eager to win his eighth world title.