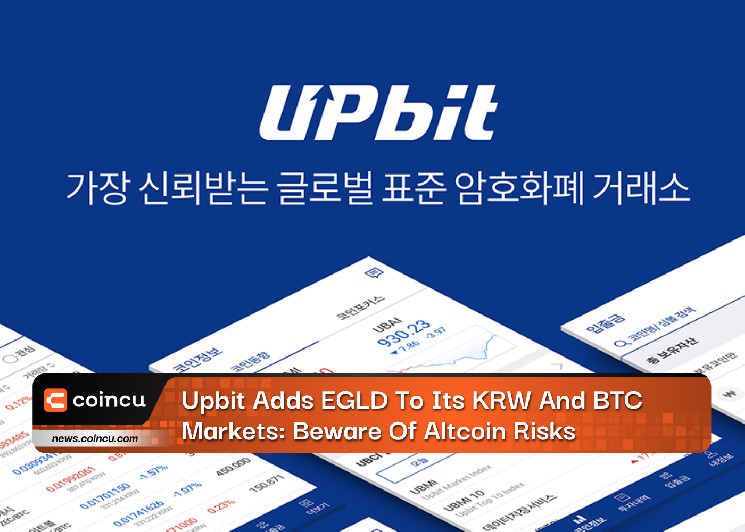 ---
South Korea's largest exchange, Upbit, announced the addition of EGLD to its KRW and BTC markets on April 27, 2023. As a result, EGLD's Korean won, and BTC transactions will be available, and deposits will open within 3 hours of the announcement. However, the announcement of adding a new digital asset to Upbit often leads to a sharp increase in altcoins, so users should be aware of the risks.
EGLD deposit support will only be available from the mainnet network and not through other networks like BSC.
Orders under certain conditions will be restricted after adding new digital assets to the KRW and BTC markets to provide a safe trading environment and accurate market information to members. When adding a new digital asset, the initial purchase order is limited for about 5 minutes, and sell orders are limited to -10% or less of the previous day's closing price of CoinMarketCap. The market price and pre-order are determined to be about an hour.
The price of the new digital asset confirmed on CoinMarketCap is 57,710.38 KRW / 0.001468 BTC as of April 27, 09:30 (KST). Users should refer to this point and be mindful of losses due to rapid market price fluctuations in the initial stage of transaction support.
Investors and traders must be careful as the announcement of EGLD's addition to Upbit's KRW and BTC markets may lead to high volatility in the market. While EGLD's addition to Upbit is a positive development, it is essential to consider the risks involved and make informed decisions.
DISCLAIMER: The Information on this website is provided as general market commentary and does not constitute investment advice. We encourage you to do your own research before investing.
---