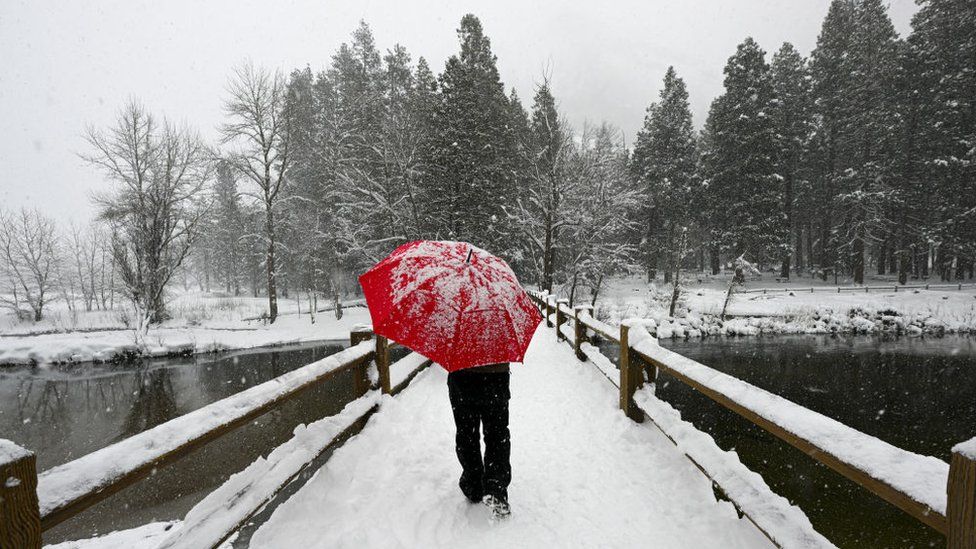 California's Yosemite National Park will partly close for at least six days from Friday, as melting snow in the region poses a risk of flooding.
Snowfall levels in the Sierra Nevada area where the park is located broke records this winter, hitting 300% of their average in some parts.
But temperatures this weekend could rise by up to 10 degrees Celsius and raise water levels at the local river.
May is typically the beginning of peak visitor season at the park.
The park said that visitors with lodging and camping reservations during the period of closure would be refunded, and wilderness permits could be rescheduled as needed.
The decision will affect most of the Yosemite Valley, although some locations including the western valley, the sequoia-rich Mariposa Grove and the Hetch Hetchy reservoir will remain open.
More than three million people visit Yosemite each year, according to National Park Service statistics.
Spring is considered the best time to visit and about three-quarters of visitors flock to the park between May and September.
Closures will begin at night on Friday 28 April and continue through Wednesday 3 May, the park's official Twitter account announced on Tuesday.
It also warned the closures may be extended as additional flooding is possible in May and June.
The US west coast has been hit by a series of so-called atmospheric rivers over the winter, bringing coastal flooding and a historic snowpack further inland.
What are the atmospheric rivers?
Why California's storms are unlikely to fix its drought
State officials in California have warned that the melting snow may bring floods that could continue for several weeks and even months as the weather warms.
Flooding and storms have already cost the state billions of dollars in estimated damage this year.
Related Topics
Floods
Yosemite National Park
United States
California