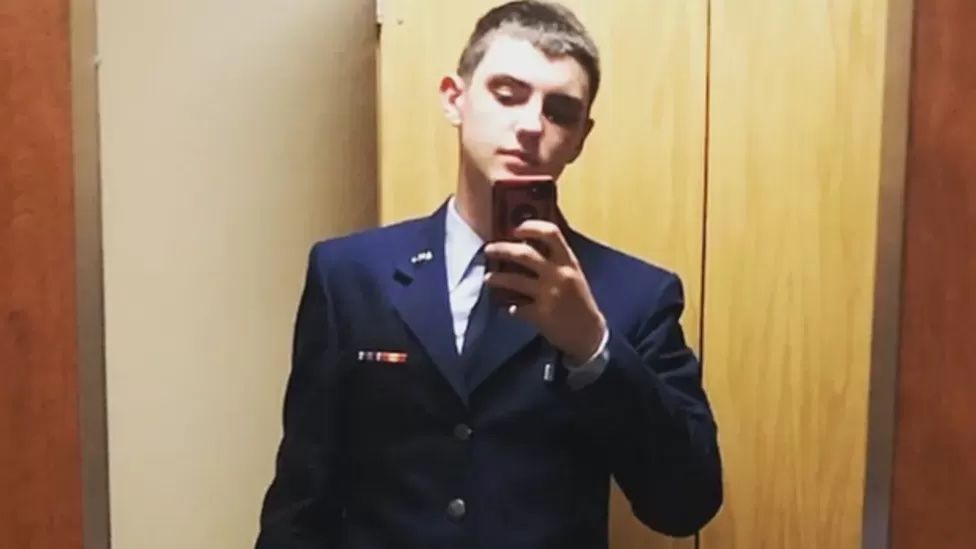 A US airman suspected of leaking dozens of classified files had a history of making violent threats and researched mass shootings, prosecutors allege.
Jack Teixeira wrote on social media that he wanted to kill a "ton of people" as a way of "culling the weak minded", according to a court filing.
The 18-page document also claimed the 21-year-old kept a bazooka and other weapons close to his bed.
On Thursday, prosecutors will argue he should remain in jail until his trial.
Mr Teixeira will appear at the detention hearing in a Massachusetts federal court. His legal team have not commented on the case but are expected to argue he should not be detained.
According to the prosecutors, he posted repeatedly about "troubling" violent acts including a potential mass shooting. He allegedly described building an "assassination van" and driving around shooting people in a "crowded urban or suburban environment".
He also allegedly searched for multiple recent mass shootings on his government computer, including Uvalde and the Las Vegas shooting.
The filing also said a search of Mr Teixeira's home had uncovered "a virtual arsenal of weapons, including bolt-action rifles, rifles, AR and AK-style weapons, and a bazooka". The defendant kept his gun locker with multiple weapons approximately two feet from his bed, according to the court filing.
It added that he was suspended from high school when a classmate overheard him making threats and discussing Molotov cocktails as well as other weapons.
He discussed violence and murder online and was prone to making "racial threats", prosecutors wrote.
They also said that, after his arrest, the FBI found a tablet, a laptop and an Xbox gaming console at his home that had been smashed and placed in a dumpster.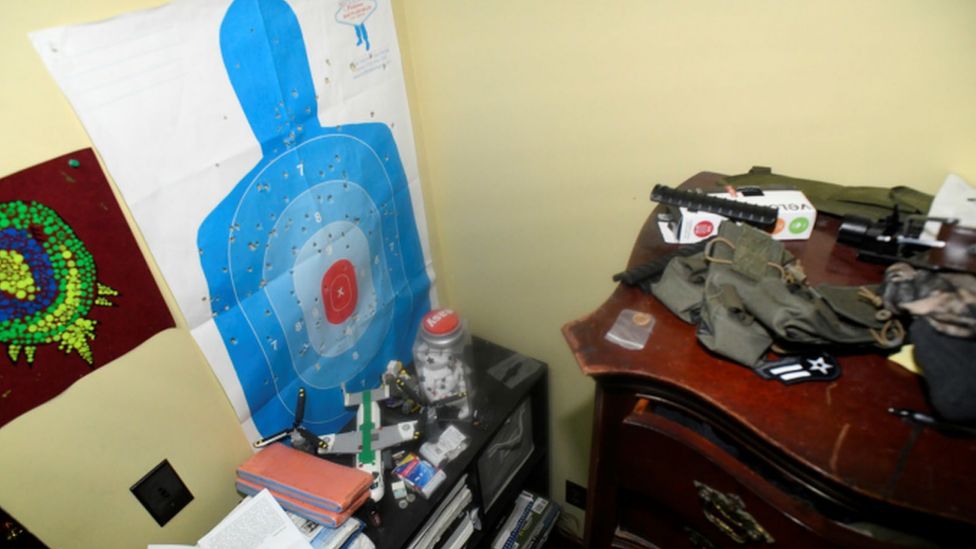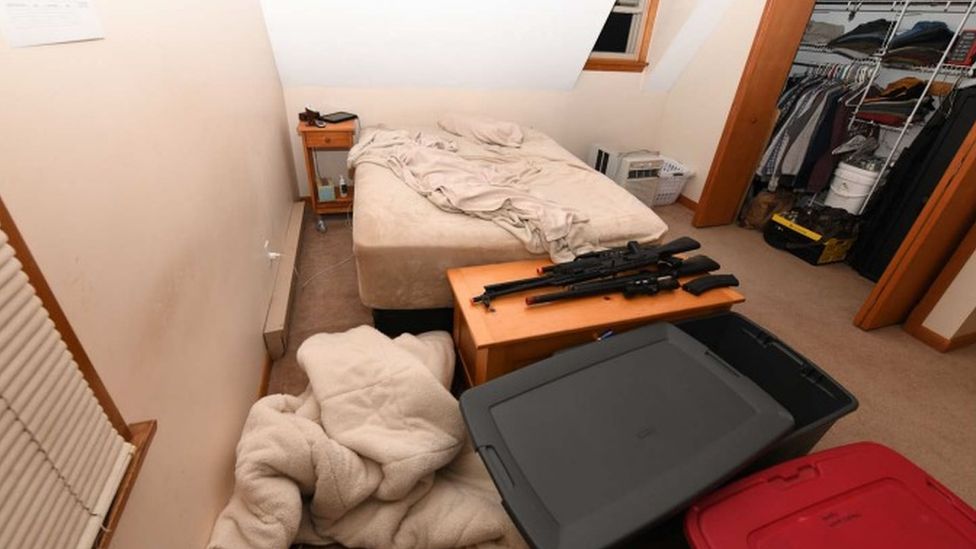 Investigators are still working to determine how Mr Teixeira allegedly leaked dozens of classified files. They are also investigating whether he kept any physical or digital copies.
The filing said he "may still have access to a trove of classified information" and poses a "serious flight risk" as hostile nations could potentially give him safe haven.
"There simply is no condition or combination of conditions that can ensure the defendant will not further disclose additional information still in his knowledge or possession," prosecutors wrote.
"The damage the defendant has already caused to the US national security is immense. The damage the defendant is still capable of causing is extraordinary."


Meanwhile, two commanders at Mr Teixeira's unit, the 102nd Intelligence Support Squadron in Massachusetts, have been put on leave pending an investigation.
They have temporarily lost access to classified systems and information, the US Air Force said in a statement. Their names have not been released.
The unit was relieved of its intelligence-gathering duties earlier this month.
The leaked intelligence material first appeared in a Discord chat room, which Mr Teixeira is said to have helped administer. The documents were then shared outside the chat room by some of its members.
Mr Teixeira faces up to 25 years in prison over charges of unauthorised transmission of defence information.
He is also charged with the unauthorised removal and retention of classified documents.
Related Topics
Pentagon leaks
Jack Teixeira
United States
Ukraine