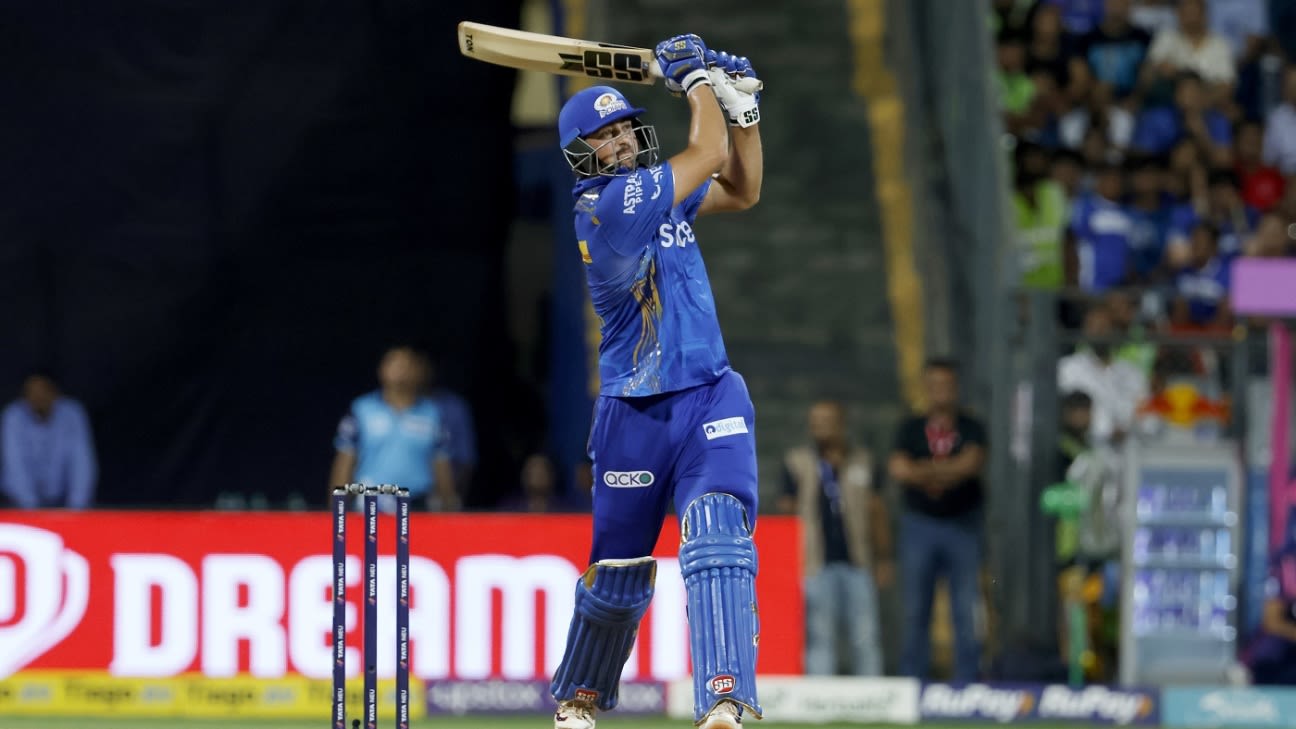 Tim David has played only 16
games
for
Mumbai
Indians, but he has already shown glimpses of the power-hitting ability that had made Kieron Pollard one of the stalwarts of the IPL. In the 1000th
game
of the IPL on Sunday, David went 6, 6, 6 off the first three balls of the last over as
Mumbai
became the first team in the league's history to chase down a 200-plus total at the Wankhede Stadium. With Pollard now taking up a new role as Mumbai's batting coach, can David fill the void left by him as the team's finisher?
"Look, it's big shoes to fill," Rohit Sharma, the
Mumbai
captain, said at the post-match presentation. "Obviously, Polly has done it for so many years and we have won so many championships with his performances. Tim obviously has got a lot of ability, as you saw today. He has got so much power and at the back end, it helps. When you have that kind of power, the bowler is always thinking, so that's good to have."
"Yeah, we needed a result," David said. "So, it's an amazing feeling, the crowd was going crazy for us. So, when we get up and flying at the Wankhede, there's no better feeling.
"We've probably not played our best
game
for the last couple of matches. To see how the boys went about it, it's awesome for
us
and to see how excited the boys are, it feels really good."
Whenever Trent Boult,
Sandeep Sharma
and
Jason Holder
missed their lengths at the death, David put them away. He was particularly severe on Holder, taking him for 25 off six balls. After the match, David said that the plan was to go after every bowler.
"Everyone had to be targeted," he said. "But it was good batting conditions today. So, tough job for the bowlers there, but personally I've been wanting to do something like this for a while now and been hungry to get a result for the team. So, it feels great.
"It was a little bit sweaty, so I was kind of getting out of the crease and trying to close the angle down [against Holder] and just react to wherever the ball is bowled. At that point, it just had to be good shots and try and hit the middle of the bat."
Tim DavidRohit SharmaMumbai IndiansRoyals vs MumbaiIndian Premier League