Watch:
10 Most CONTROVERSIAL Met Gala Moments
Janelle Monáe's Met Gala look had as many layers as a glass onion.
The singer put on a show at the 2023 Met Gala by changing out of a Thom Browne ensemble—which featured a black-and-white patchwork jacket worn over a giant hoop skirt—while on the red carpet May 1 in New York City.
Janelle, 37, gradually began taking off pieces of clothing until there was nearly nothing left, wearing only a black bra top and bottoms with pearl fringe and a pannier petticoat layered over the lingerie. (See every celebrity at the 2023 Met Gala here.)
"Whether it's in fashion, to tell a story through my armor—there's a story there," Janelle told Variety in 2020, explaining that her onstage costumes or "uniforms" began as an homage to the working class. 
Janelle, who uses they/them and she/her pronouns, recalled developing their sense of style while attending a performing arts school in New York and living in a boarding house in Atlanta years back.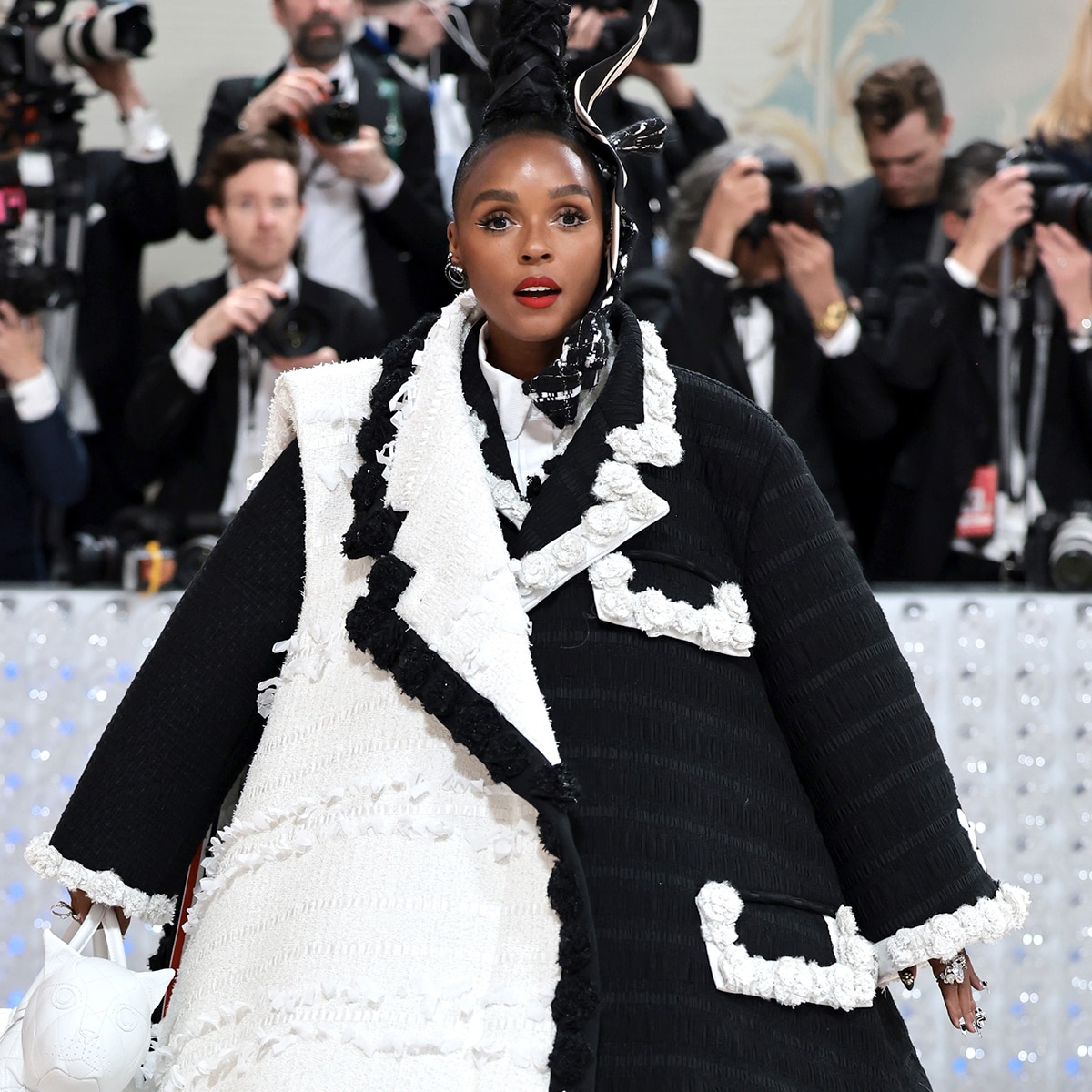 "I was a busy arts student, expressing myself through art, and I started to really use fashion as a way to express that," the Glass Onion star shared. "I did not have time to find a new costume every single show… So it was like, what is my uniform, what is my outfit going to be? What is something that I always feel comfortable in? It's been black and white. It's been the androgynous look that matched my energy."
And Janelle channeled that color palette once again at the 2023 Met Gala, which is hosted by Vogue editor Anna Wintour, along with Grammy winner Dua Lipa, actress Michaela Coel, actress Penélope Cruz, and tennis champion Roger Federer.
Mike Coppola/Getty Images
This year's event centers on the "Karl Lagerfeld: A Line of Beauty," which honors the Germany-born designer who died in 2019 at age 85.
"He was one of the most influential and celebrated designers of the 21st century and an iconic, universal symbol of style," his team wrote on Instagram at the time of his death. "Driven by a phenomenal sense of creativity, Karl was passionate, powerful and intensely curious. He leaves behind an extraordinary legacy as one of the greatest designers of our time, and there are no words to express how much he will be missed."
Theo Wargo/Getty Images for Karl Lagerfeld
Watch E! News today, May 1, at 11 p.m. for a full recap for the 2023 Met Gala. And visit E! Online's Met Gala page for every fashion look of the night, celebrity sighting and OMG moment.