Watch:
Rihanna Arrives Fashionably Late to Met Gala!
Rihanna is the only girl in the world that can pull off a look like this.
 
The 35-year-old—who is expecting her second child with boyfriend A$AP Rocky—attended the 2023 Met Gala on May 1 in head-turning fashion, and as expected we've got love on the brain when it comes to her ensemble.
Though she was first spotted wearing a Fendi fur coat as she stepped out of NYC's The Carlyle Hotel, the pregnant singer arrived to the Metropolitan Museum of Art in a white dress by Valentino covered in Chanel's iconic Camellia flower and featuring an epic train. To complete the look, she accessorized with white sunglasses and a deep red lip. 
"We paired an iconic Rihanna-red lip with a glamorous yet edgy high-shimmer, pearlescent eye," Fenty Beauty's global makeup artist Priscilla Ono said in a statement. "We felt like the combination, matched with a soft-matte, chiseled complexion, celebrated the same classic yet modern beauty of Karl Lagerfeld's designs." 
Meanwhile, for the "Karl Lagerfeld: A Line of Beauty" themed event, her rocker love chose a floor-length, plaid kilt with bedazzled jeans underneath. He paired the bottom with a classic black suit jacket. (Catch every must-see red carpet look here.)
The Grammy winner's gorgeous appearance at this year's gala comes after she was absent from 2022 event. In 2021, she and A$AP, 34, shut down the red carpet together as a couple. Fast-forward eight months later, and the fashionable couple announced there would be a new addition to their family, a baby boy.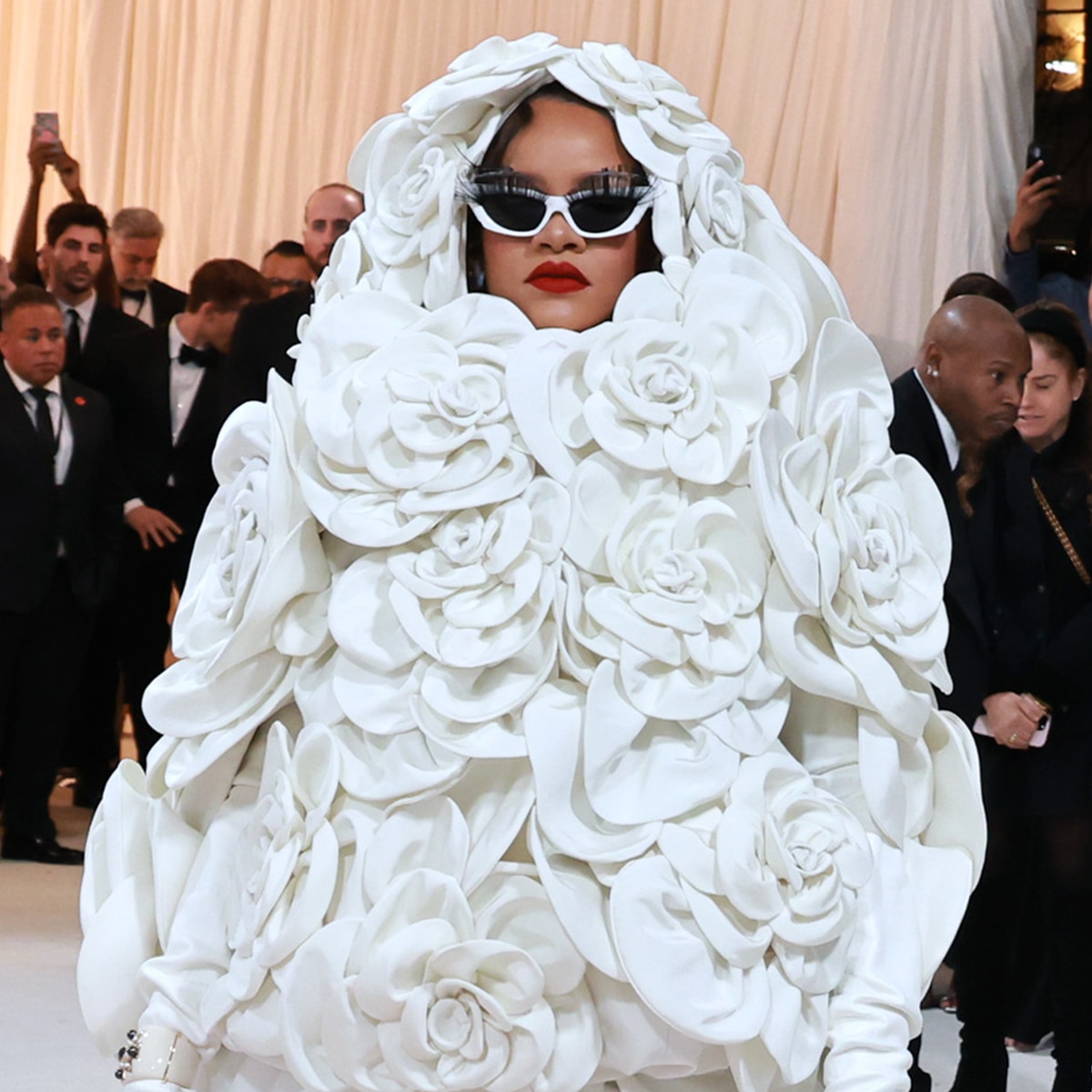 And though Rihanna didn't attend the 2022 Met Gala due to her her first pregnancy, Vogue made sure to honor the Barbados native in quite unique fashion: By creating a digital rendering of a marble statue replicating her cover published that April. (In case you missed it: For her stunning cover photo, the Fenty Beauty founder showed off her baby bump in a red lace Alaïa bodysuit.)
Theo Wargo/Getty Images for Karl Lagerfeld
"The statue of 'Eirene (The Personification of Peace)' is usually the highest-profile marble goddess @themetmuseum Greco-Roman galleries," the outlet wrote alongside a May 3 Instagram video showing off their artwork. "But now we've got @badgalriri, straight off this month's Vogue cover."
Mike Coppola/Getty Images
And it's worth noting that for Rihanna, this year's appearance at the gala is unlike any other, considering she's styling for two. And the look's flawless execution is no surprise, considering how she slayed her first pregnancy. As the singer herself recalled amid her first journey, she made it her mission to find style in a very hopeful place.
"When I found out I was pregnant, I thought to myself, 'There's no way I'm going to go shopping in no maternity aisle," she told Vogue in April 2022. "I'm sorry—it's too much fun to get dressed up. I'm not going to let that part disappear because my body is changing."
As she noted, "I'm hoping that we were able to redefine what's considered 'decent' for pregnant women. My body is doing incredible things right now, and I'm not going to be ashamed of that. This time should feel celebratory."
But Rihanna isn't the only one shining bright like a diamond. Keep reading for every look from the 2023 Met Gala.
Watch E! News today, May 1, at 11 p.m. for a full recap for the 2023 Met Gala. And visit E! Online's Met Gala page for every fashion look of the night, celebrity sighting and OMG moment.