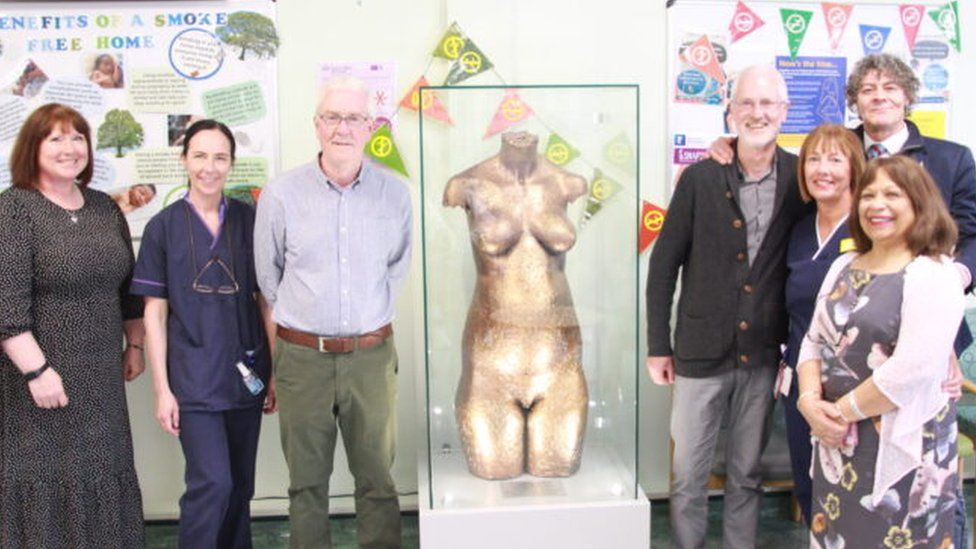 A hospital's statue of a pregnant woman has been returned after nearly 50 years following a campaign.
The gold sculpture was removed from the University Hospital of North Tees in Stockton in the 1970s after a petition against it.
Designed by Eddie Hawking, it signified birth and was modelled on his wife, Audrey.
Their son Andy Hawking, 67, said he was "quite emotional" seeing it and knowing he was the "little bump".
"Mum and dad will be knocked out to see it now," he added.
After being removed from the hospital, it had been put in storage at Eddie Hawking's home more than 250 miles (402km) away in Bristol.
Shaun Campbell, from Darlington's Arthur Wharton Foundation, started a campaign to bring it back after reading about its removal.
He spoke to the trust, and later Mr Hawking, who agreed for it to be transferred to Darlington to be restored.
Mr Campbell said: "I wanted to do the right thing. I am thrilled it has finally arrived here."
As it was unveiled behind a glass casing, compete with a plaque, Mr Hawking's son, Andy said he was "proud as punch".
"That's me, that little bump in there – I am quite emotional actually seeing it there."
"My dad was a prolific sculptor, he worked at the local college at that time, and the sculpture was eventually placed in the hospital delivery unit," he said.
"That is, until it was sadly removed soon after, following a petition."
Staff at North Tees and Hartlepool NHS Foundation Trust said they had "a bit of a cry" after hearing what they said was a "very romantic story."

Follow BBC North East & Cumbria on Twitter, Facebook and Instagram. Send your story ideas to [email protected]