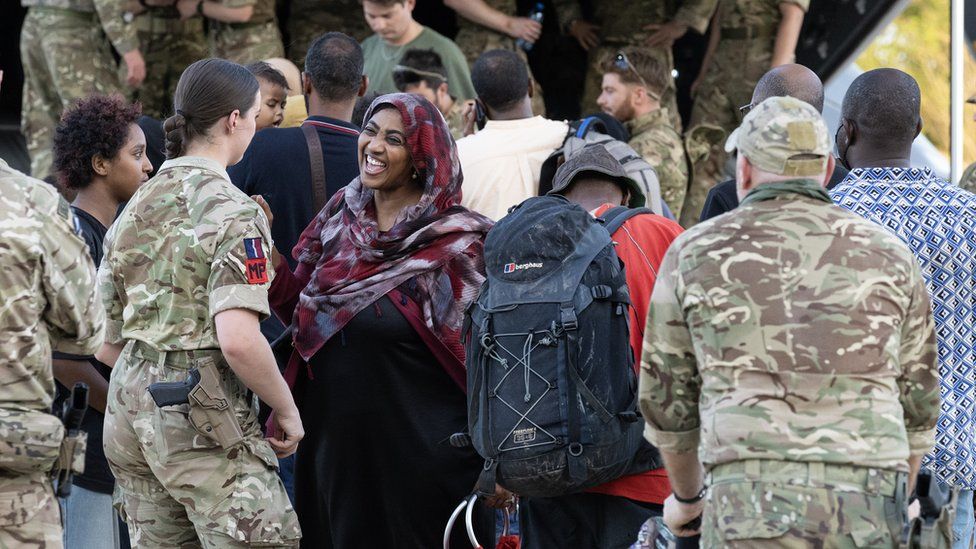 Two extra evacuation flights carrying British nationals have left Sudan, as UK efforts now turn to diplomacy and humanitarian aid.
The "exceptional" flights – billed as the last UK airlift from Sudan – took off from Port Sudan on the Red Sea coast on Monday evening.
Military rescue flights from an airstrip near the Sudanese capital Khartoum ended on Saturday.
Nearly 2,200 people had been evacuated as of Monday afternoon.
The Foreign, Commonwealth & Development Office said it would release passenger numbers for the two latest flights on Tuesday.
The Foreign Office would not confirm the movements of the flights, but a flight tracking website showed a RAF transport Hercules aircraft had landed in Larnaca, Cyprus, at 22:45 local time (20:45 BST). A RAF Atlas transport aircraft was due to land later.
The UK government said it had ended evacuation flights from Wadi Saeedna airstrip because of a decline in demand by British nationals and the "increasingly volatile situation" on the ground, with the last military plane taking off on Saturday night.
Airstrikes and fighting were reported over the weekend despite a ceasefire between the Sudanese army and its rival the paramilitary Rapid Support Forces.
What is going on in Sudan? A simple guide
UK allows NHS doctors on last flights out of Sudan
The two generals fighting over Sudan's future
The UK government described the operation in Sudan as the "longest and largest airlift" by any Western nation, with 2,197 people airlifted from the war-torn nation as of 17:30 Sudan time on Monday.
This figure included 1,087 people from other nations, including the US and Germany.
In addition, a UK team is providing consular assistance in Port Sudan, where they will be helping British nationals leave by commercial routes. Royal Navy ship HMS Lancaster is supporting evacuation efforts from Sudan.
The FCDO said the situation remained volatile and "our ability to conduct evacuations could change at short notice".
Foreign Secretary James Cleverly said: "With thanks to the extraordinary efforts of staff and military, the UK has brought 2,197 people to safety from Sudan so far – the largest airlift by any Western nation.
"As the focus turns to humanitarian and diplomatic efforts, we will continue do all we can to press for a long-term ceasefire and an immediate end to the violence in Sudan."
Options to provide humanitarian assistance to Sudanese people in co-ordination with the UN and non-governmental organisations were being explored, the FCDO said.
But concerns have been raised by some British nationals attempting to get family, without British passports, into the UK.
She explained her British passport-holding brother, who had made the journey from Khartoum with his mother, had been told by a British Embassy helpline his mother could be evacuated if he proved she was dependent on him. But at Port Sudan she was told she could not be airlifted out the country as she was not "immediate family".
They are now stuck at the Sudanese border attempting to leave.
Dr Yahya said: "My mother doesn't have anyone to look after her. If she is left alone, she will probably die. She has mobility issues. She can walk for about 10 metres. She uses a wheelchair. a normal chair or a walking aid when tired.
"My brother will stay with my mom to look after her. It breaks my heart."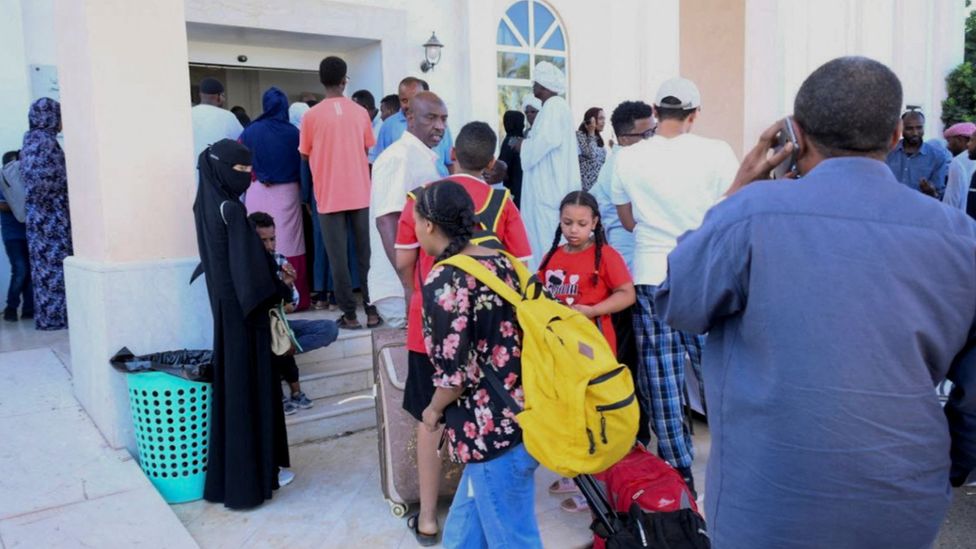 Fighting has entered its third week in Sudan. Tens of thousands of people have fled the country since fighting engulfed the country more than two weeks ago.
The capital city Khartoum has seen the heaviest fighting, with the Sudanese military and the Rapid Support Forces, a powerful paramilitary group, fighting for control of the country.
Sudan's military said on Saturday it was launching a major new offensive against RSF positions in Khartoum.
The latest truce, which has not held, was due to end at midnight on Sunday. But the RSF said the ceasefire had been extended for another three days.
Additional reporting by Kris Bramwell