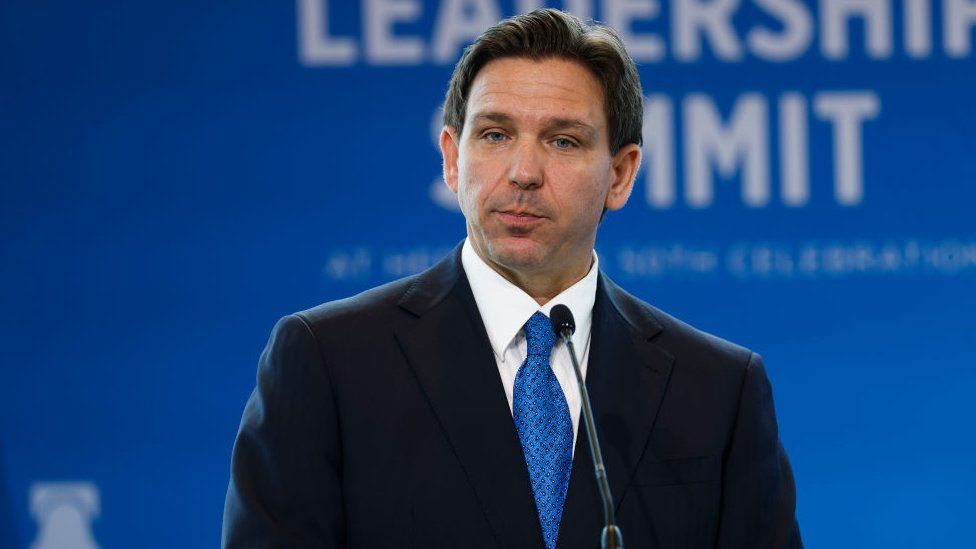 A board appointed by Florida Governor Ron DeSantis that oversees Disney's special district has voted to sue Disney, the latest in an escalating feud between the state's Republican governor and the entertainment giant.
It comes a week after Disney filed a suit against Mr DeSantis.
The board had "no choice now but to respond", to Disney's lawsuit, board chairman Martin Garcia said on Monday.
"We'll seek justice in our own backyard," he said, US media reported.
The Central Florida Tourism Oversight District is expected to officially file the lawsuit later on Monday.
The row between Florida's Republican governor and Disney began after Disney criticised the state's Parental Rights in Education Act, dubbed by critics as the "Don't Say Gay" bill.
The measure initially banned education about sexual orientation and gender identity for pupils aged nine and under, and was recently expanded to cover all grades.
After the company expressed its opposition to the bill early last year, Mr DeSantis has sought to exert more government control over Disney's Orlando-based theme parks.
He signed a bill in February subjecting Disney to more layers of oversight through a five-member state-appointed board.

Disney v DeSantis coverage
Why 'the happiest place' is suing Florida's governor
Disney boss calls governor DeSantis 'anti-Florida'
Disney sidesteps DeSantis board with royal clause
DeSantis warns 'buckle up' as he gets Disney power

But the governing body said its powers were curbed by a last-minute agreement that gives the entertainment giant almost total control over development in the district.
State officials later voided the agreement.
Disney asked the court to undo this move in its own lawsuit against Mr DeSantis, arguing it was a part of broader efforts by the governor to "weaponise government power against Disney in retaliation for expressing a political viewpoint unpopular with certain state officials".
The entertainment company alleged Mr DeSantis had engaged in "a targeted campaign of government retaliation" against the firm.
Mr DeSantis has pledged to take on and win "every single issue involving Disney".
Related Topics
Disney
Florida
United States
Ron DeSantis