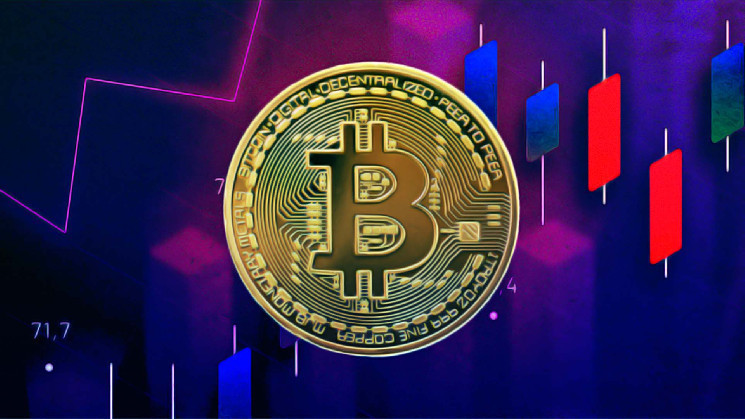 ---
Bitcoin has continuously defeated the bears and is looking to rally beyond $30000
Robert Kiyosaki has recently given a prediction that BTC will reach beyond the $5000000 in 2025
Bitcoin has remained a safe haven for crypto investors for a long time. It has recently tested a high of $25000 which is the highest in 8 months time period. As per various analysts this rally is a start for the BTC rally. Recently Charlie Munger has said that crypto is a risky game and is gambling. Various prominent vocal advocates of BTC has come forward to support Bitcoin against this statement. As per the Santiment Bitcoin daily active address has reached 1.12 million which is a bullish indication for Bitcoin. Various people in the crypto industry has expressed their concerns regarding regulation in the crypto market. The author of Rich Dad Poor Dad has said in a tweet that BTC will reach $500,000 in 2025 as FED is printing a lot of money. The bearish indicators after the FTX collapse is converting to bullish from the past few months.
Bitcoin is currently ranked 1st in the cryptoverse and has a market cap of $459 Billion. It has a market dominance of 42.2% which has increased in the past few months. Volume of the BTC has seen a gain of 12% in the intraday session .Volume to market cap ratio of BTC is 0.086 suggesting a consolidated move in the price.
Is BTC Ready To Fly Beyond $30000?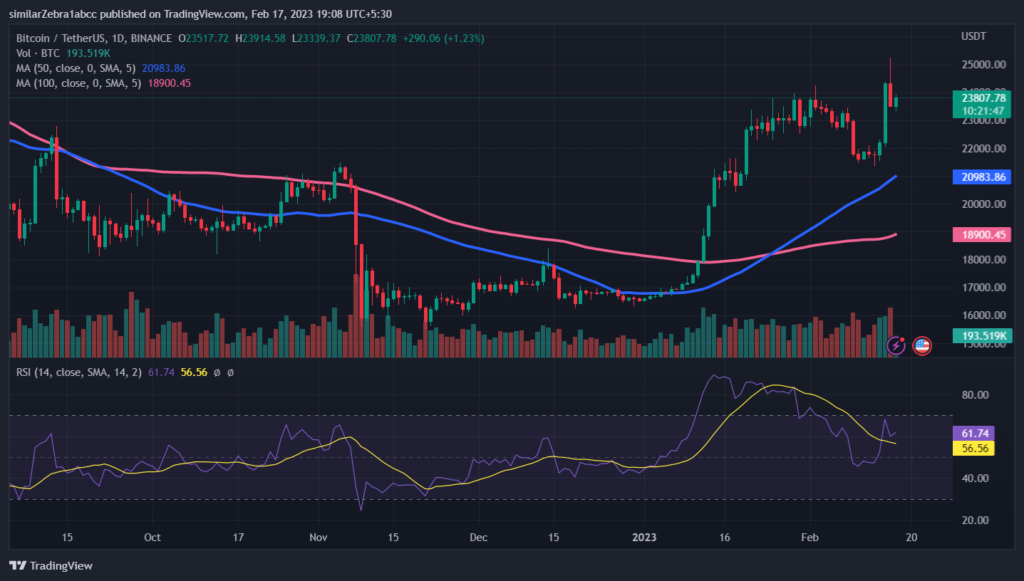 Source: TradingView
The weekly technical chart of Bitcoin suggests a consolidated trend in price. It is currently looking to jump above 50 MA on the weekly chart. If it happens then a strong momentum can be seen in the upcoming weeks.
On the daily chart it is trading near the value of $23846 with a drop of 3% in the intraday session. Bitcoin price upside momentum can see a halt near the value of $30000. A temporary resistance near $25k can be seen.
The support of the asset price can be seen near $20k.If BTC crosses above the demand zone a strong upside trend can be seen in the future. It is trading above the 50 and 100 Daily Moving Average. There can be a positive crossover which can push the asset price to a new high.
RSI of Bitcoin is near 61 suggesting its presence in the oversold zone.There is a positive slope in the RSI suggesting an upside move.
Conclusion
Crypto market has been under a lot of scrutiny by regulators. Despite this, BTC has shown a strong growth and hit an 8 month high. Various analysts are speculating a strong rise in the future.
Technical Levels
Major Support:$20000
Major Resistance:$30000
Disclaimer: The views and opinions stated by the author, or any people named in this article, are for informational purposes only, and they do not establish financial, investment, or other advice. Investing in or trading crypto assets comes with a risk of financial loss.